Watch Dogs: Legion Ps5
Experience the best adventure game on Playstation 5. Watch Dogs: Legion Ps5 game is on Gamescard.Net with the cheapest price.
Description
Additional Info
Description
Watch Dogs: Legion is an adventure game with a thrill of action, which was released in 2020. It is a Ubisoft game, developed by their Toronto Studios. This is the third game in the Watch Dog Series and has been released 4 years after the release of its prequel, Watch Dogs 2. This game is available on many platforms including Windows, Stadia, PS4, Xbox etc. It was released for Xbox Series X/S on November 10, 2020 and the PS5 version will come out on November 12, 2020.
Features of Watch Dogs: Legion PS5 version
The Watch Dogs: Legion PS5 version was released initially in October 2020 and has been available since then. This game is launched in partnership with MSI, which is a world-leading gaming brand. The story of the game is set in a dystopian future London where a group of hackers called Dedsec are on a mission to clear their names for a series of blasts that had majorly affected the city, and they had been unrightfully framed for it. These citizens are on their way to not only get justice for themselves, but also to free the citizens from the surveillance of a private military company. You can buy Watch Dogs: Legion PS5 directly from the Ubisoft store or from our website where you can get it for really good prices.
What's New in Watch Dogs: Legion PS5?
The upcoming version of the game, Watch Dogs: Legion PS5 is a highly anticipated version which will not only allow users to play the Ultimate Edition or Gold Edition, but also to upgrade the game from Watch Dogs: Legion PS4 version to Watch Dogs: Legion PS5 version very easily. This upgrade is free of cost and can be made from the version for the PS4.
Where to Buy the Watch Dogs: Legion PS5?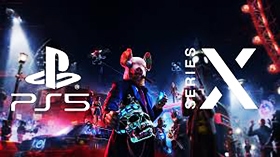 Like all video games, Watch Dogs: Legion PS5 can be found on many stores, as well as on the MSI stores, Ubisoft store and our own website GameCards.net. You can buy Watch Dogs: Legion PS5 and PS4 versions on our website in really affordable and feasible prices. You can also check out Watch Dogs: Legion Price for different editions on our website and compare to see which edition is the right fit for you.
Besides all the older features, some of the new features that can be found in the game are recruitable characters, with their own set of skills and backgrounds. These characters can be played by anyone and the player skills and backgrounds can even be lost permanently if the player enables the "permadeath" option in the game. SO, beware. We do not want you to lose any cool powers that you might have.
There is also a four-player game that can be played as a multiplayer. This multiplayer allows players to group together and complete missions and travel through London together. It is like an adventure with your friends, but in virtual reality. You roam the streets of future London, you look for objects, complete tasks and you earn points. You also have to stay clear of any enemies or objects that may harm you or result in health degradation. Like all multiplayers, you need to win as a team to be able to win individually.
The Watch Dogs: Legion game is played from athirst-person perspective and allows players to either explore the city via their parkour moves or travelling through the underground stations. There are several missions present in the game, some of which are directly related to the progress of the game. These missions can be tackled with either a single solution or multiple approaches that help you complete them in lesser amount of time. Figuring out these techniques is your job, and you can only continue the game once you're done with your current mission. The combat styles present in the game are few, but they are interesting.
You can either fight with arms and weapons or you can go fist-to-fist with your enemy. Some objects might require fist-to-fist combat over weapons. The enemies will be able to smartly defend against your moves so what you choose has to be careful and clever. Unlike the previous Watch Dogs games, Legion allows you to use multiple players within a single game. That means that you can change your character or recruit a different character for a specific combat or mission. Needless to say, you can also customize those recruited characters as per your choice.
Watch Dogs: Legion is an AAA game that has been making rounds since before its release. And now that it is finally here, everyone is pumped up to get a chance to play it. To get your hands on it, you must visit our website GameCards.net and check out our deals and options for getting the game for your suitable platforms. We are very excited for the launch of the PS5 version as well. It will not only allow for a great user experience but also give the game a boost it never had before.
The brand new PS5 will truly make the game ten times better than it is. Imagine recruiting a different character mid-game on your PS5 and being able to customize it right before you begin another mission to save the citizens or destroy the enemies. This game can be a perfect analogy for people who rebel against authority and fight to get what's right, as this game does not contain any additional violence. Instead it focuses on making things right, and helping people out for the sake of humanity. We suggest you to get your hands on the game as soon as possible. You know where to find it. We can't wait to explore dystopian London, and we're sure neither can you. This is your chance to get the newly released Watch Dogs: Legion for PS4 and PS5 which will be releasing soon. Stay tuned for more information.
Screen Languages: English, French, Portuguese (Brazil), Spanish
This Game is Not a CD or Disc.
We deliver the original game to you via E-mail with a PS4-PS5 account that you can download and play for a lifetime.
FAQ.