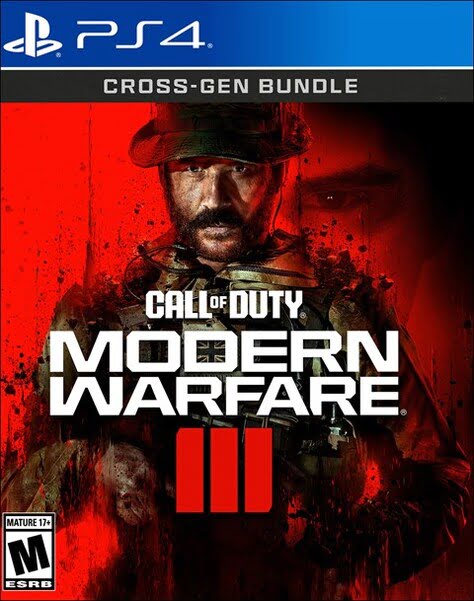 Call of Duty: Modern Warfare 3 Ps4
Offer Ends In:
11
Days
03
Hours
46
Minutes
25
Seconds
Find the cheapest sale price for Call of Duty: Modern Warfare 3 Ps4 and embark on an epic gaming adventure. Grab the best deal now.
Description
Additional Info
About game pass - Cod Points
Description
Introducing the PlayStation 4 edition of Call of Duty: Modern Warfare 3 Ps4, featuring an array of exciting content and thrilling gameplay experiences.
Call Of Duty: Modern Warfare 3 Ps4 Features

Immediate Access
Jump immediately into the action with quick access to material from Call of Duty: Modern Warfare 2 and Warzone, both of which are now also available in Call of Duty: Modern Warfare 3 Ps4  right from the beginning.
Pack of Soap Operators Soap
Enhance your in-game persona with the help of the Soap Operator Pack that you equip to yourself.
Skin Designed for the Zombie Ghost Operator
You may give your operator a one-of-a-kind look by using the unusual Zombie Ghost Operator Skin.
Prepare for the Ultimate Showdown
In this exhilarating sequel to the record-breaking Call of Duty: Modern Warfare 2, Captain Price and Task Force 141 find themselves confronting the most formidable threat to date. Vladimir Makarov, the ultranationalist war criminal, is extending his influence across the globe, compelling Task Force 141 to engage in a battle like no other.
Time to Settle Old Scores and Forge New Alliances
Call of Duty: Modern Warfare 3 Ps4 commemorates the 20th anniversary of Call of Duty by delivering a remarkable collection of multiplayer maps, featuring beloved classics and brand-new additions. Experience all 16 launch maps from the original Modern Warfare 2, now enhanced with fresh modes and gameplay elements, and available right from the get-go. Additionally, more than 12 entirely new 6v6 core maps will be introduced in post-launch live seasons, ensuring continuous excitement and challenges.
Embark on an All-New Open World Zombie Adventure
For the first time in the franchise's history, join forces with other squads to survive and battle against massive waves of the undead in the largest Call of Duty Zombies map ever created. Modern Warfare Zombies (MWZ) unveils an original Treyarch Zombies narrative, complete with missions, core Zombies features, and hidden secrets waiting to be uncovered. It's an adventure like no other.
More About Call of Duty: Modern Warfare 3 Ps4
Call of Duty: Modern Warfare III is finally available on GamesCard.Net after a protracted wait.
Kotaku has revealed that Call of Duty: Modern Warfare III will be set in a variety of places, including New York, Paris, and London.
Task Force 141, Captain Price, and the events of Modern Warfare II will confront their biggest foe to yet. This game is not only a cinematic mission system. Open Battle Missions are a novel element in the game. These missions will put your strategy and decision-making to the test.
Assume you are heading out on a rescue expedition. In this situation, having silent weapons and night vision goggles as part of your gear is essential. The option of using a more covert approach is provided by the game to enable this style of gaming. You may also employ tools to accomplish your objectives in many ways.
To commemorate Modern Warfare's 20th anniversary, the multiplayer mode of the game brings back some of the greatest maps. It is said that this game may also have maps like Terminal, my personal favorite, Afghan, Favela, Invasion, and Rust. A brand-new mode called Cutthroat was also added to the game, providing a 3v3v3 competitive experience in addition to the traditional modes.
On the biggest COD battlefield, you and other teams may engage in combat against enormous zombie hordes in zombie mode. This time, COD Zombies may be found as a PVE extraction survival experience in the Open World.
Buy Call of Duty: Modern Warfare 3 Ps4 on Gamescard.Net with the best price.
Languages
Voice: English, French, Spanish
Screen Languages: English, French, Spanish.
This Game is Not a CD or Disc.
We deliver the original game to you via E-mail with a PS4-PS5 account that you can download and play for a lifetime.
FAQ.
If you have to pay for it like COD Points, Game PAss, Battle Pass etc in game purchase , you will need to make a new Playstation US account (You can open it completely free of charge and hassle-free on your Playstation) and purchase using that one.
Because the account belongs to the USA country and you have to create a new Ps US account to benefit from this. You can create a free Playstation US account by yourself which always belongs to you.