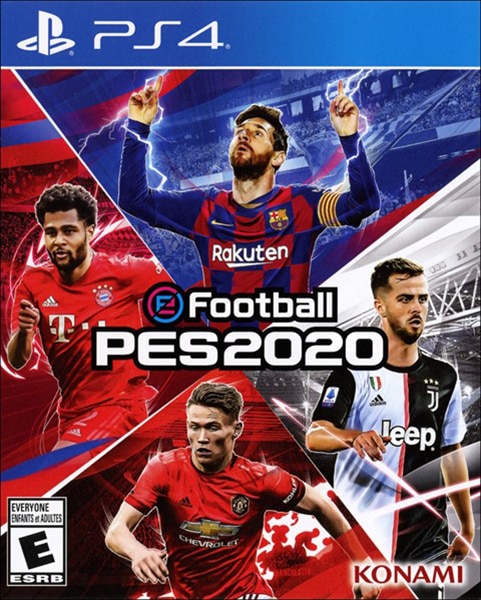 eFootball PES 2020 Ps4
eFootball PES 2020 Ps4 Game at GamesCard.Net with the best price guarantee. Buy Pes 20 cheapest on GamesCard.Net!
Description
Additional Info
Description
eFootball PES 2020 Ps4 is the advancement of PES and accessible on PS4. Some enormous changes have been acquainted with this game to make increasingly real ongoing interaction for players.
This football match-up has numerous new and overhauled highlights including new methods; setting touchy kick precision; increasingly reasonable protection and the expansion of the deliberate foul; an intuitive framework that reproduces player characters on the pitch; and significantly more.
MASTER LEAGUE REMASTERED
The fan-most loved mode Master League returns, however it has had huge changes to make it far better. Players will have the option to take much more control of their story advancing with an amazing new intelligent discourse framework! You can pick your very own reactions to suit your character and make your very own Master League story.
The exchange market has additionally been improved to be progressively lined up with the real world. It includes another calculation to improve move charges, compensations and different components to make increasingly credible interactivity.
Players can likewise alter support logos, chief models or play through this mode utilizing one of the amazing administrators as your symbol including Zico, Cruyff and Maradona. These augmentations will give more noteworthy opportunity to this well known mode.
NEW MODE: MATCHDAY
PES 2020 incorporates a pristine mode called Matchday which puts the substance of football culture into an aggressive configuration, so players can feel like they're spot on the pitch. Adjust yourself to one of two distinct sides toward the beginning of every week after week occasion, where each consummately put pass and show-halting objective released contributes focuses towards triumph.
Work together with PES newcomers and prepared veterans to manufacture your favorable position in front of the Grand Final. Each gathering match will be examined to locate the best performing client to choose as Representatives who win the privilege to contend in the Grand Final in the interest of their picked side – which will be visible on a live stream in Matchday mode.
Audio:
German
Portuguese
English
Italian
French
Spanish
Subtitles:
German
Swedish
Russian
Portuguese
English
Italian
French
Turkish
Spanish
Dutch
File size:
35.41 GB
This Game is Not a CD or Disc.
We deliver the original game to you via E-mail with a PS4-PS5 account that you can download and play for a lifetime.
FAQ.