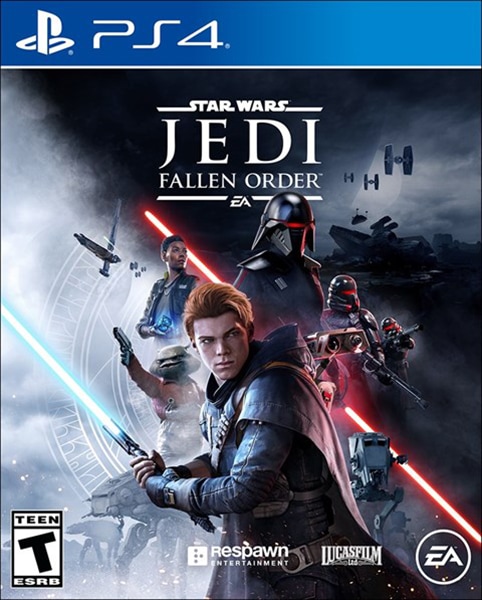 Star Wars Jedi Fallen Order Ps4
Star Wars Jedi Fallen Order Ps4 game at the lowest prices on GamesCard.Net! Buy now and enjoy the fun!
Other Platforms For This Game:
---
Please make sure to choose CD or Digital Ps Account versions in the below
Please Check
FAQ.
Description
Additional Info
Description
A system spreading over experience anticipates in Star Wars Jedi Fallen Order, another third individual activity experience title from Respawn Entertainment. This narratively-determined single player game places you in the job of a Jedi Padawan who barely got away from the cleanse of Order 66 after the occasions of Episode 3: Revenge of the Sith. On a journey to revamp the Jedi Order, you should get the bits of your broke past to finish your preparation, grow new incredible Force capacities, and ace the specialty of the notorious lightsaber – all while remaining one stage in front of the Empire and its fatal Inquisitors.
While acing your capacities, players will participate in visually charged lightsaber and Force battle intended to convey the sort of serious Star Wars lightsaber fights as found in the movies. Players should move toward adversaries deliberately, evaluating qualities and shortcomings while cunningly using your Jedi preparing to conquer your rivals and understand the secrets that lay in your way.
Star Wars fans will perceive notable areas, weapons, rigging, and foes while additionally meeting a list of crisp characters, areas, animals, droids and enemies new to Star Wars. As a component of this bona fide Star Wars story, fans will dig into a universe as of late seized by the Empire. As a Jedi legend turned-outlaw, players should battle for endurance while investigating the puzzles of a long-wiped out development all with an end goal to revamp the leftovers of the Jedi Order as the Empire tries to eradicate the Jedi totally.
File size:
47.52 GB
Please Choose Your Product Version Before You Add To Cart
Product Versions:
1) Digital Playstation Account
This Game is Not a CD or Disc.
We deliver the original game to you via E-mail with a PS4-PS5 account that you can download and play for a lifetime.
FAQ.
2) CD-DISC Version
This is a physical CD version of the game. If you choose CD version your product will be shipped within 1 week.