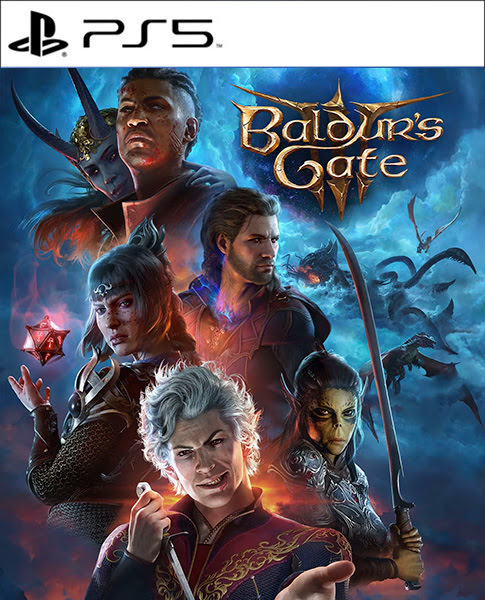 Baldur's Gate 3 Ps5
Offer Ends In:
7
Days
03
Hours
40
Minutes
42
Seconds
Experience the pinnacle of D&D in Baldur's Gate 3 on PS5. Buy at the best price and embark on an unparalleled fantasy journey. Available now on sale, dive into a world that adapts to every choice you make.
Description
Additional Info
Description
Taken, tainted, adrift. The monstrous transformation within grows, amplifying your might in tandem. Navigate a tale rife with camaraderie, treachery, devotion, and the seductive allure of ultimate control. Amidst a cosmic clash of deities, devils, and eldritch entities, your team holds the destiny of the Forgotten Realms in balance.
Baldur's Gate 3 Ps5 Features
EXPERIENCE D&D AT ITS FINEST
Delve into an extensive range of D&D races and classes or step into the shoes of an origin character boasting a meticulously curated backstory. Traverse the Forgotten Realms, battling, looting, and forging relationships. Whether solo or with a four-member squad in multiplayer, choose your allies wisely.
FLUID TRANSITION BETWEEN SOLO & CO-OP MODES
Characters carve individual tales, both solitary and within a group. Merge your might in battle, or delegate separate missions and intentions. Strategize or throw a curveball at unsuspecting teammates. Offering split-screen co-op for duo players on PlayStation 5 or quad players online, Baldur's Gate 3 is tailored for solo ventures or shared escapades.
A DISTINCTLY UNIQUE QUEST EVERY TIME
The expansive, intricate, and varied landscape of the Forgotten Realms teems with mysteries. Embrace vertical exploration: skulk, dive, push, scale, and leap from the enigmatic Underdark to the shimmering heights of the Upper City. Your survival strategy and imprint on the realm is solely in your hands.
A MASTERCLASS IN CINEMATIC STORYTELLING
Powered by the advanced Divinity 4.0 engine, Baldur's Gate 3 Ps5 game offers an unparalleled realm ripe for exploration, experimentation, and immersion. This expansive, cinematic tale draws you into an intimate bond with your characters. Experience growth, deceit, camaraderie, and more, as Larian's cutting-edge RPG engine propels the narrative.
Buy Baldur's Gate 3 Ps5 at cheap price now.
Languages:
Audio: English
Screen Languages: Chinese , English, French, German, Italian, Polish, Portuguese, Russian, Spanish, Turkish, Ukrainian.
This Game is Not a CD or Disc.
We deliver the original game to you via E-mail with a PS4-PS5 account that you can download and play for a lifetime.
FAQ.