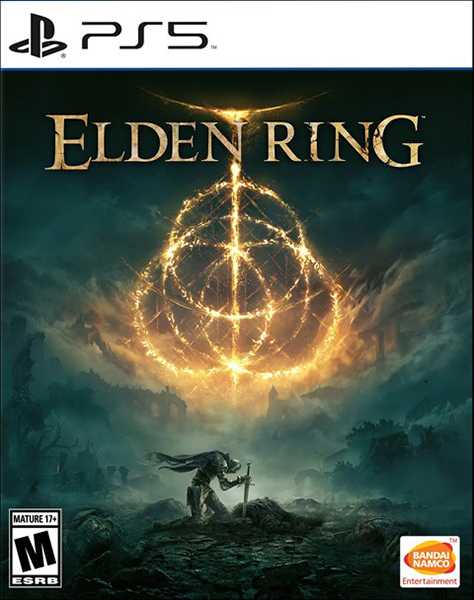 Elden Ring PS5
Offer Ends In:
7
Days
03
Hours
41
Minutes
50
Seconds
Buy Elden Ring PS5 at the best price on GamesCard.Net and step into a breathtaking experience with unique landscapes and battle against mind-blowing creatures
Description
Additional Info
Description
The Golden Order has been broken. Rise, discolored, and be directed by beauty to display the force of the Elden Ring and become an Elden Lord in the Lands Between.
A New Fantasy World
Venture through the Lands Between, another fantasy world made by Hidetaka Miyazaki, creator of the powerful DARK SOULS computer game series, and George R. R. Martin, author of The New York Times top rated dream series, A Song of Ice and Fire. Unwind the secrets of the Elden Ring's power. Experience foes with significant foundations, characters with their own extraordinary inspirations for aiding or impeding your advancement, and fearsome creatures.
World Exploration In The Lands Between
ELDEN RING features vast fantastical landscapes and shadowy, complicated dungeons that are associated consistently. Cross the amazing scene by walking or riding a horse, alone or online with different players, and completely inundate yourself in the green fields, choking out swamps, spiraling mountains, premonition palaces and different locales of greatness on a scale never seen before in a FromSoftware title.
Genre-Defining Gameplay
Create your character in FromSoftware's refined action-RPG and characterize your playstyle by exploring different avenues regarding a wide assortment of weapons, magical abilities, and skills found throughout the world. Race into fight, take out adversaries individually utilizing covertness, or even call upon partners for help. Many options are available to you as you choose how to move toward exploration and battle.
Buy Elden Ring PS5 Games At Cheap Price On GamesCard.Net
Languages:
Audio: English
Screen Languages: English, French (France), Portuguese (Brazil), Spanish
This Game is Not a CD or Disc.
We deliver the original game to you via E-mail with a PS4-PS5 account that you can download and play for a lifetime.
FAQ.