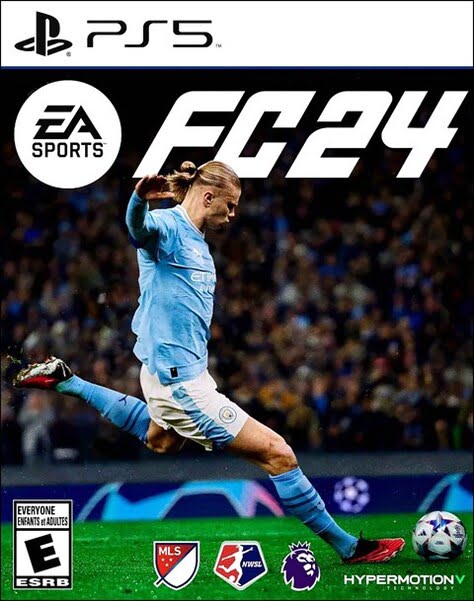 EA Sports FC 24 Ps5
Offer Ends In:
1
Day
03
Hours
46
Minutes
47
Seconds
Discover the cheapest price for EA Sports FC 24 PS5 -Also known as Fifa 24- during our exclusive sale. Buy now and enjoy the best gaming experience.
Description
Additional Info
About Fc Points
Description
Introducing EA SPORTS FC 24 PS5 – the ultimate virtual football experience that redefines the world of soccer gaming. With cutting-edge technology like HyperMotion V and the innovative PlayStyles system, it delivers the most authentic and comprehensive gameplay to date.
EA SPORTS FC 24 PS5 Features
Unmatched Content
Explore a vast world of football with EA SPORTS FC 24 PS5 (Also known as Fifa 24) boasting over 19,000 players, 30+ leagues, and 700+ teams, including the prestigious UEFA Champions League. Navigating through the redesigned menus is smoother than ever, and the sheer breadth of content will astonish you. EA SPORTSFC 24 PS5 breathes life into the football atmosphere, immersing you in its authenticity, and the Ultimate Team mode has reached new heights of completeness.
HyperMotion V: A Game-Changer
HyperMotion V is at the heart of EA SPORTS FC 24 PS5, marking a significant evolution since its debut. "V" stands for "volumetric," and this is the third iteration of the proprietary gaming engine. Utilizing an astounding 590 million frames from 180 professional football matchups across major leagues, including the Champions League, La Liga, and Premier League, EA Sports has harnessed the power of AI to translate this data into lifelike player movements. HyperMotion V delivers authenticity, synchronizing entire team movements and offering over 1,200 signature Run Styles inspired by football legends.
PlayStyles and PlayStyles+: A New Era
In EA SPORTS FC 24 PS5, Traits are replaced by PlayStyles, revolutionizing how we define in-game personas. These mechanics, driven by real-world Opta data, blur the line between virtual and real-life football, connecting you with your favorite players in unprecedented ways. With 34 unique PlayStyles reflecting qualities like passing, scoring, defending, and more, the real excitement lies in PlayStyles+. These enhanced versions unlock extraordinary abilities, transforming ordinary players into gaming legends, much like Erling Haaland's Power Shot inspired by his iconic UEFA Champions League volley.
Diverse Game Modes
EA SPORTS FC 24 PS5 offers an extensive array of game modes catering to both single-player and multiplayer enthusiasts. From assembling your dream squad in Ultimate Team to quick, competitive matches in Kick Off, from living the life of a budding football star in Player Career to managing a club in Manager Career, the options are endless. Clubs offer collaborative success, while Volta Football delivers electrifying small-sided street football action. Skill Games, Practice Arena, and Training Centre help you hone your skills, and structured competition in Seasons, Co-Op Seasons, Tournaments, and Online Friendlies provide endless opportunities for competitive play.
EA SPORTS FC 24 PS 5 Ultimate Team: Where Dreams Are Built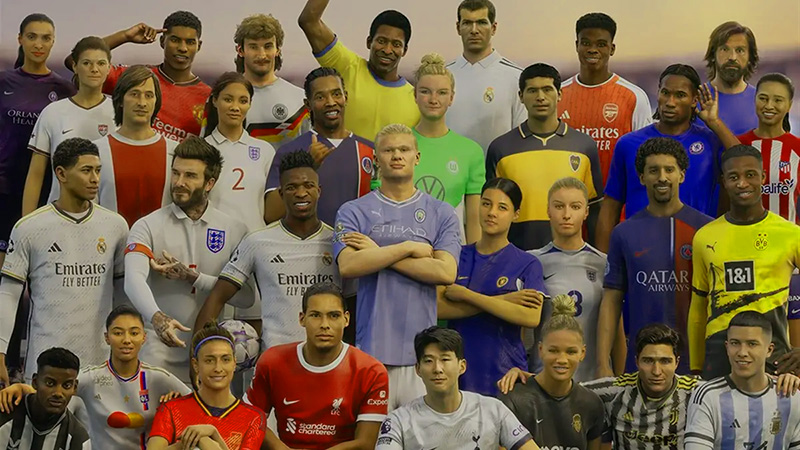 Ultimate Team lets you create your dream team, combining past and present players under chemistry-inspired rules. As each season unfolds, promotional events unveil enhanced player versions, presenting a thrilling challenge to stay competitive. With modes like Moments, Squad Battles, Division Rivals, FUT Champions, Friendlies, Draft, and Square Building Challenges, EA SPORTS FC 24 PS5 Ultimate Team is a dynamic experience filled with enhancements, including improved Squad Battles and revamped Champs Red Picks.
Women's Football
EA SPORTS FC 24 PS5 champions inclusivity by featuring both male and female players on the same pitch, creating a remarkable and unforgettable gaming experience. With over 1600 new women players, including FUT Heroes and Icons, from leagues like Barclays Women's Super League, Google Pixel Frauen-Bunesliga, Liga F, D1 Arkema, and UEFA Women's Champions League teams,  EA SPORTS FC 24 PS 5 celebrates the magic of women's football.
A Game-Changer in Football Gaming
EA SPORTS FC 24 PS5 is a revolution in football gaming, with HyperMotion V and PlayStyles setting a new standard for gameplay. While Career modes remain consistent, the Ultimate Team mode is the most complete ever. Minor improvements, like menu redesigns, enhance the experience, and the representation of women's soccer is exceptional. Visually and in terms of animations, EA SPORTS FC 24 PS5 is nothing short of exceptional.
More Details About Fc 24 Ps5
EA SPORTS FC 24 ushers in a new era for The World's Game, bringing together 19,000+ fully licensed players, 700+ teams, and 30+ leagues in the most genuine football experience ever produced.
Feel closer to the action with three cutting-edge technologies that provide unprecedented realism in every match: HyperMotionV, Opta-optimized PlayStyles, and a revamped Frostbite Engine.
HyperMotionV captures the game as it is played, leveraging volumetric data from more than 180 professional men's and women's matches to guarantee movement in-game correctly replicates real-world activity on the field.
PlayStyles dimensionalize players by translating data from Opta and other sources into trademark talents that enhance each player's realism and personality. The Frostbite Engine has been upgraded to offer The World's Game in vivid realism, providing a new degree of immersion to each battle.
With the brand new Ultimate Team Evolutions, you can create club legends and enhance your players, as well as welcome women's footballers to the field alongside males as you build your perfect Eleven. Create your own journey in Manager and Player Career, and join friends on the field in Clubs and VOLTA FOOTBALL with cross-play.
Buy EA SPORTS FC 24 PS5 now at cheapest price on gamescard.net.
Languages :
Audio : English, French, Spanish
Screen Languages : English, French , Spanish
This Game is Not a CD or Disc.
We deliver the original game to you via E-mail with a PS4-PS5 account that you can download and play for a lifetime.
FAQ.
If you have to pay for it like Fc Points etc in game purchase , you may need to make a new Playstation US account (You can open it completely free of charge and hassle-free on your Playstation) and purchase using that one.
If you are going to purchase FC Points in-game, please contact us before purchasing.