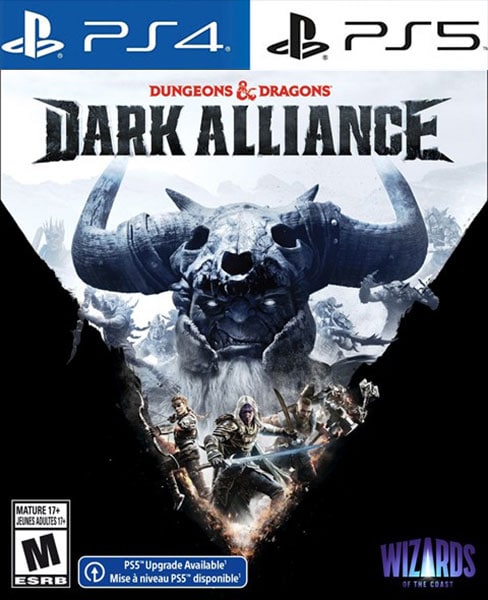 Dark Alliance PS4 & PS5
Buy Dark Alliance PS4 & PS5 on GamesCard.Net with the best price. You can find the latest and trend games on this site. Buy now, have fun!
Description
Additional Info
Description
Sign up to 4 companions and fight notable beasts from Dungeons and Dragons in the new community activity RPG DUNGEONS and DRAGONS: DARK ALLIANCE. Dark Alliance rejuvenates the universe of Dungeons and Dragons in a dangerous activity RPG occupied with ongoing battle and dynamic center. Ice monsters and wrathful winged serpents wander unchecked through IcewindDale as attacking multitudes of evil develop further each day. Presently four legends should beat back the assault of animals and shield against the dark. Pick your saint and sign up to four companions to fight unbelievable beasts. Investigate the cold universe of IcewindDale as you vanquish relentless managers, procure incredible stuff, and open new capacities to take on much greater difficulties.
Dark Alliance Features
Vanquish Unstoppable Monsters – Dark Alliance sets major parts in opposition to the absolute most incredible beasts from the universe of Dungeons and Dragons. Ice monsters, Beholders, White Dragons—assemble the solidarity to overcome them all against unconquerable chances.
Battle Alongside Your Friends – Join up to four companions and battle together in a powerful community experience with touchy continuous battle. Release decimating combos as you overturn relentless beasts too incredible to even consider going it single-handedly.
Pick Your Hero – Play as one of four unmistakable legends, each with their own interesting playstyle and adjustable capacities. Complete missions and vanquish supervisors to open new abilities and procure amazing stuff.
Valiant The Frozen Landscape – Dark Alliance rejuvenates the universe of Dungeons and Dragons more than ever. Investigate the bone chilling and hazardous universe of Icewind Dale as you protect your country from multitudes of accursed beasts.
Buy Dark Alliance PS4 & PS5 and the latest games on GamesCard.Net!
Audio: English, French (France)
Subtitles: Chinese (Simplified), English, French (France), German, Italian, Portuguese (Brazil), Russian, Spanish
This Game is Not a CD or Disc.
We deliver the original game to you via E-mail with a PS4-PS5 account that you can download and play for a lifetime.
FAQ.