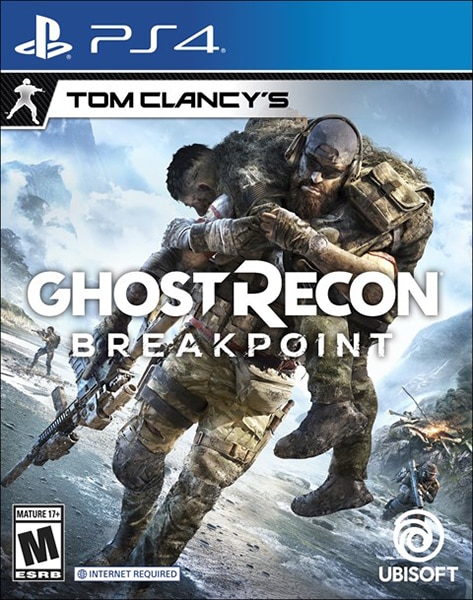 Tom Clancy's Ghost Recon Breakpoint Ps4
Buy Tom Clancy's Ghost Recon Breakpoint Ps4 for the cheapest price. You can buy with the best price.
Other Platforms For This Game:
---
Description
Additional Info
Description
Tom Clancy's Ghost Recon Breakpoint Ps4 places you in the boots of the Ghosts, an Elite US Special Operations Unit stranded behind foe lines.
This time there is no preparation.
The sum total of what contact has been lost with Auroa. This archipelago is home to Skell Technology, a cutting edge organization. You are sent there with your unit for a recon crucial, your helicopters are shot down: Skell Tech has fallen into an inappropriate hands. The Wolves, a deadly ex–US military unit denounced any and all authority, have assumed control over the island. Driven by your ex-faithful comrade, Colonel Cole D. Walker, they have reinvented Skell's automatons into executing machines and are prepared to utilize them, regardless of the losses.
Tom Clancy's Ghost Recon Breakpoint is a military shooter set in a different, threatening, and baffling open world that you can play altogether solo or in four-player center. Harmed, without help, and chased somewhere around ex-Ghosts, you should battle to endure while lost in Auroa. Pick the correct unions and choose how to bring down your hardest adversary.
Highlights
Find A MYSTERIOUS AND DIVERSE ARCHIPELAGO
Investigate Auroa, home of the Silicon Valley monster Skell Technology, both on-and rough terrain, noticeable all around, ashore, and adrift. Drench yourself in a strange spot where the most compositionally propelled structures meet the most stunning and most untamed nature. From the most noteworthy fjords and blanketed tops to the most profound bogs, meet various groups – from Skellers to Homesteaders to Outcasts – that will affect your main goal. What happened to Jace Skell? Who is pulling the strings? Discover reality and clear the plot!
Bring DOWN YOUR EX-BROTHER-IN-ARMS
Face your hardest adversaries, the Wolves, a deadly ex–US military unit denounced any kind of authority, prepared to utilize the best executing machines to bring you down. The Wolves used to be you. They have a similar preparing and experience as you have. They have held onto the archipelago of Auroa, assuming responsibility for the most significant assets of the island: the automatons. Furthermore, they are driven by your ex-faithful comrade, Colonel Cole D. Walker, so you will have no real option except to face your previous colleague.
Carry on with THE LIFE OF A TRUE GHOST STRANDED BEHIND ENEMY LINES
Test your basic instincts and adjust to the changed landscapes of Auroa. Soak slants, aggregating wounds, and weakness are the new difficulties for you to handle. Set up a camp with your partners, deal with your hardware, class, and weapons in your bivouac, and calibrate your methodologies. In case you're injured in fight, you'll need to creep to the security of spread to recuperate yourself, or if a colleague goes down, you'll have to lift them up and convey them to a protected spot before treating their wounds. Utilize new apparatuses, similar to the little automaton, that will enable you to adjust shot a few targets, even in solo.
Alter YOUR GHOST AND EXPERIENCE FULL FREEDOM OF APPROACH
Make your character and pick among a huge number of customization blends to make your ideal Ghost. Plunder materials from the world, art and update your weapons with different connection conceivable outcomes, and modify your apparatus so as to adjust your Ghost to any circumstance and to accommodate your playstyle. Investigation with a fresh out of the box new class framework to give you more opportunities to crush your foes. Would you like to play ambush? You can go crazy. Would you like to play marksman? You can get unique ammo that gives you more range and exactness. You can likewise play stealthy with the Panther class, and utilize a smoke bomb to escape from your foes. Tom Clancy's Ghost Recon Breakpoint Ps4 is about your decision, your approach to have a great time.
Appreciate A TRUE SOCIAL EXPERIENCE WITH NEW SHARED PROGRESSION AND BEST-IN-CLASS ENDGAME CONTENT
Anyway you choose to play, in Tom Clancy's Ghost Recon Breakpoint, you will consistently keep a similar character: a similar customization, similar aptitudes, and similar weapons. You keep and improve your movement crosswise over both our PvE and PvP encounters. Tom Clancy's Ghost Recon Breakpoint is additionally a really social encounter. Discover your companions in the new Social HUB, play the battle together, or enter a PvP field to take on a serious 4v4 match. The experience doesn't stop there! The game will be routinely refreshed and bolstered a long time after dispatch. New story circular segments will continue growing the story, new highlights will be constantly included, and new classes and ongoing interaction conceivable outcomes will accessible to players, just as occasions and a fresh out of the plastic new sort of endgame content: Raids.
Is Ghost Recon a continuation?
Indeed, it's a continuation of the exceptionally acclaimed Tom Clancy's Ghost Recon Wildlands. In Wildlands, a risky medication cartel has assumed control over South America prompting viciousness and treachery. A war isn't an alternative, so the group of Ghosts must adopt a stealthy strategy to balance out and break the union between the cartel and undermined government.
Is the game singleplayer?
Indeed, it is, yet this games likewise presents new PvP and community multiplayer modes, so you can either play alone, conflict with companions or group up and make your very own first class gathering of Ghosts.
Audio:
English
Subtitles:
English
Russian
File size:
40.01 GB
This Game is Not a CD or Disc.
We deliver the original game to you via E-mail with a PS4-PS5 account that you can download and play for a lifetime.
FAQ.