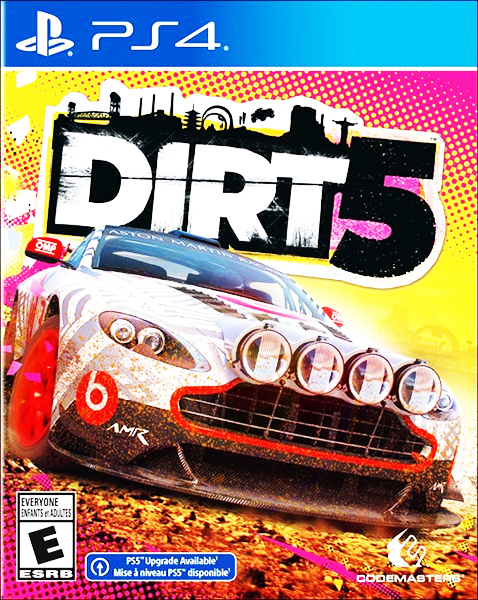 Dirt 5 Ps4 – Ps5
Buy the newest racing genre game Dirt 5 Ps4 – Ps5 at the cheapest price on Gamescard.net. Get it immediately  and start playing.
Description
Additional Info
Description
Dirt 5 Ps4 – Ps5 Epic dashing, unadulterated articulation, unbridled style
Dirt 5 is the strong new rough terrain hustling experience made by Codemasters. Pioneer a path over the most notable courses on the planet. Drive the broadest program of vehicles from meeting symbols, to trucks, to GT legends and parts more. Play through an elegant Career, four-player split-screen, inventive online modes, uniform proofreader and all the more new highlights, DIRT 5 is the up and coming age of extraordinary hustling.
Pioneer a path over the globe
Go on an outing far and wide and race over 70+ one of a kind courses across 10 diverse worldwide areas in staggering conditions total with dynamic climate and season of day.
Push the cutoff points with amazing vehicles
Get in the driver's seat of a mixed and energizing program of vehicles. Vanquish the hardest landscape with rock beating machines, take famous meeting vehicles to new areas, or feel the intensity of 900bhp run vehicles.
Own the spotlight
Widely acclaimed voice abilities Troy Baker and Nolan North head up the cast of DIRT 5's story-driven Career mode. Under the tutelage of a symbol, everyone's eyes are on you to turn into the new star of an intensified universe of rough terrain dashing.
Contend or co-work in rough terrain activity
Nearby split-screen of up to four players on disconnected modes, including Career, makes DIRT 5 the ideal sofa multiplayer hustling game as you fight for position with your companions.
Make and catch with new highlights
Catch your greatest hops and best moves with an itemized Photo Mode, and show your innovative pizazz with DIRT's most profound ever uniform proofreader for all vehicles.
Dirt 5 Ps4 – Ps5 Features
OWN THE SPOTLIGHT
In a rough terrain dashing world loaded with whizzes, DIRT 5's Career errands with you standing apart over the rest, and ensuring no one actually overlooks your name.
The player is dropped into a widely acclaimed rough terrain hustling arrangement that conveys consistent extraordinary activity, mainland to landmass, in all way of intensified functions. As you consider going all in and make a buzz in the hustling scene, you grab the attention of Alex Janièek – also called AJ, voiced by the amazing Troy Baker. An undisputed hotshot and fan top choice in the realm of DIRT, AJ rapidly encourages you, indicating you the stuff to ascend to the highest point of the game he has overwhelmed for quite a long time.
You're not by any means the only new racer making a sprinkle, however. Enter Bruno Durand – the super serious, cool, determined veteran, voiced by as a matter of fact Nolan North. A hero in other rough terrain trains, Bruno's ability and star power mean a conflict with AJ is inescapable, yet the aftermath from an epic race between these two symbols establishes the framework for you to make your own inheritance in the game. The whole story, your excursion, and substantially more are shrouded inside and out by the DIRT Podcast by Donut Media, facilitated by James Pumphrey and Nolan Sykes from the Donut team. Their energy and fervor coordinate the vibe of DIRT's dashing world, and between functions they respond to all the critical snapshots of your story, with extraordinary visitors including AJ and Bruno, W Series champion Jamie Chadwick, and gaming and vehicle culture character SLAPTrain.
The entirety of this meets up for a profound, account driven mode that sees you ascend from haziness to ignominy in an enhanced hustling world. All things considered, just on the off chance that you have the stuff…
Pick YOUR ADVENTURE
With the goal that's the story – however in what manner will you experience it?
The Career is part into five sections to cover the critical minutes in the story. Every section offers different ways for the player to take, which means you can pick which functions you need to take an interest in through the part. On the off chance that you need, you can at present race in all that there is to offer, which is more than 130 functions across nine distinctive race types, highlighting each area in DIRT 5.
Complete competitions to open new functions in the section; the higher you place, the more Stamps you will acquire. A specific measure of Stamps are expected to open the Main Event of every part, so the better you play out, the snappier you can advance. Headliners are the finish of every section and a harder test for the player. Finish third or above to move onto the following part.
Yet, that is not all. Complete certain targets all through Career functions to open mystery Throwdowns, where you go one-on-one with a savage challenger in epic functions.
Speak to THE WORLD'S BIGGEST BRANDS
To venture to the far corners of the planet, race unfathomable vehicles and be important for this vibe, you'll need supports. As a profoundly promoted newbie, the world is viewing – and there are some significant names that might want to talk with you…
20 genuine brands are accessible to support you in Career mode, including any semblance of Monster Energy, Sparco, Michelin, Fatlace and, yours really, Codemasters. Each support will have one of a kind prizes when you sign with them, including a restrictive attire of that brand, stickers to use in the uniform proofreader, and a cash marking reward. Each support will have targets, both long and present moment, that they need you to hit in your Career. Do that and you'll expand your Reputation Rank, which prompts an extreme prize once you hit the high level.
Players can change to another support at whatever point they need in Career, however the prior you leave a support, the less rewards you may get, particularly in the event that you don't meet your support's base race contract. All in all, will you remain faithful to one brand, or see what numerous patrons have to bring to the table along your excursion in Career? The decision is yours.
Offer THE JOURNEY
Wanna take a portion of your companions curious to see what happens? Earth 5's four-player split-screen choice is remembered for Career mode!
For any of the Career functions that highlight numerous vehicles on target, each extra player takes the spot of an AI driver. They're not only there to support you, either; the most elevated completing situation of any player is the one that is included in Career, which means you could procure more Stamps, more support rewards and more money by collaborating. While those prizes acquired just mean the host player, each extra player will get XP and money compensations for their own records, which they'll have at whatever point they next play DIRT 5 as the host player.
At last, the split-screen joining is a drop-in bargain – so your buddies can bounce in or out of your Career venture at whatever point you need, without it ending your movement. Decent.
So: a profound story, featuring the world's most prominent voice acting gifts and genuine vehicle culture names; more than 130 functions and nine race types, with decision driven movement and extra-extraordinary functions; a point by point sponsorship include with genuine brands and exceptional compensations to procure; and a split-screen to impart the amusing to up to three companions. That pretty much wraps up DIRT 5's Career – the greatest, boldest Career the establishment has ever observed.
Buy  Dirt 5 Ps4 – Ps5 at ever cheapest price on Gamescard.net.
This Game is Not a CD or Disc.
We deliver the original game to you via E-mail with a PS4-PS5 account that you can download and play for a lifetime.
FAQ.