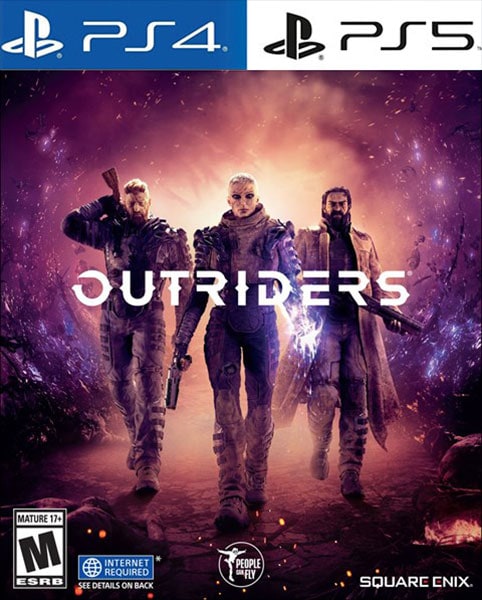 Outriders Ps4 & Ps5
Outriders Ps4 & Ps5 game is on GamesCard.Net with the cheapest price and fast delivery. Buy now and start to play immediately.
Description
Additional Info
Description
Set out on a community centered, science fiction shooter experience from People Can Fly, the designer behind Bulletstorm.
As humankind seeps out down and dirty of Enoch, you'll make your own Outrider and leave on an excursion across the threatening planet.
With rich narrating crossing an assorted world, you'll abandon the ghettos and shanty towns of the First City and navigate woods, mountains and desert chasing a baffling sign.
Joining extreme gunplay with savage forces and a stockpile of progressively curved weaponry and stuff sets, Outriders offers endless long periods of ongoing interaction from one of the best shooter designers in the business – People Can Fly.
Outriders Ps4 & Ps5 Features
Square Enix and People Can Fly present Outriders, a 1-3 player, drop-in/drop-out community shooter set in a unique, dull, and urgent science fiction universe. A genuine type mixture, Outriders consolidates severe and ridiculous battle with profound pretending frameworks – including rambling expertise trees and interminable stuff alterations.
Make and alter your own Outriders and look over one of four special classes to obliterate your adversary – each with its own staggering cluster of capacities. Find the unfriendly planet of Enoch as you leave on an excursion to the wellspring of a strange sign.
Buy Outriders Ps4 & Ps5 now at cheapest price on GamesCard.Net!
Audio: English, French (France), Portuguese (Brazil), Spanish (Mexico)
Subtitles: English, French (France), German, Italian, Polish, Portuguese (Brazil), Russian, Spanish, Spanish (Mexico)
This Game is Not a CD or Disc.
We deliver the original game to you via E-mail with a PS4-PS5 account that you can download and play for a lifetime.
FAQ.