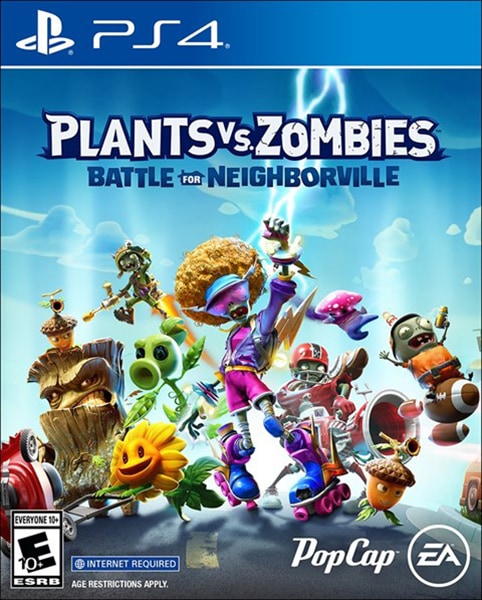 Plants vs. Zombies: Battle for Neighborville Ps4
Plants vs Zombies Battle for Neighborville Ps4 is on sale at GamesCard.Net at the cheapest price. Buy now and reach the heights of fun!
Other Platforms For This Game:
---
Description
Additional Info
Description
Welcome to Neighborville, where everything is great. Then again, actually an insane new coniferous clash between mind less and botanicals is preparing! What are you going to do – call the yields? Soil your plants? It's a great opportunity to kick some grass in the wackiest shooter experience among plants and zombies yet: Plants versus Zombies: Battle for Neighborville. The well established fight among plants and zombies is going to get individual with 20 completely adaptable character classes.
Play as new plant characters, including baffling Night Cap, searing Snapdragon, and cooperative people Oak and Acorn, notwithstanding unique top choices. On the zombie side, pick between great fun-dead characters or new cerebrum biters – chew rly '80s' Action Hero, boogie-shooting Electric Slide, or cooperative person Space Cadet. Deck each character out in the most out of control customizations yet and even put your stamp on progress with custom Victory Slabs for each vanquish. Blast!
Buy Plants vs. Zombies: Battle for Neighborville Ps4 with the cheapest price.
Subtitles:
German
Russian
Korean
Traditional Chinese
English
Italian
Portuguese (Brazil)
French
Simplified Chinese
Spanish
Arabic
Japanese
Spanish (Latin America)
Polish
Dutch
File size:
12.79 GB
This Game is Not a CD or Disc.
We deliver the original game to you via E-mail with a PS4-PS5 account that you can download and play for a lifetime.
FAQ.