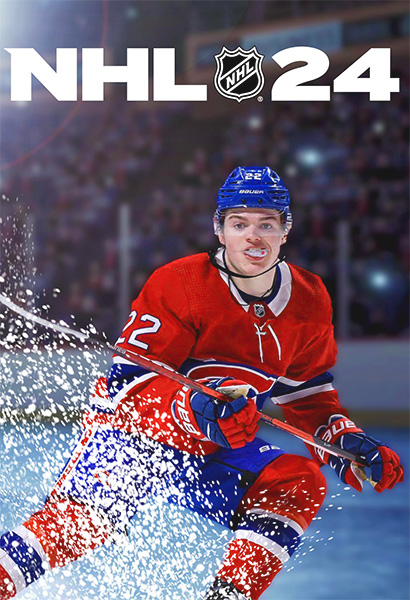 NHL 2024 For Ps5
Offer Ends In:
11
Days
02
Hours
05
Minutes
10
Seconds
Buy NHL 24 Ps5 at the cheapest price during our exclusive sale event. Don't miss out on this opportunity to experience the game at its finest.
Description
Additional Info
Description
Introducing NHL 24 For Ps5, where EA takes your hockey gaming experience to a whole new level. Get ready to immerse yourself in the exhilarating world of ice hockey with an array of exciting gameplay features that bring the authenticity of on-ice action to life.
NHL 2024 For Ps5 Features
Gameplay Innovations
Feel the intensity, physicality, and precision of authentic ice hockey action like never before in NHL 24 For Ps5. Our latest gameplay features will keep you on the edge of your seat, delivering a true-to-life experience that captures the essence of the sport.
The Exhaust Engine Experience
We've completely reimagined the Chel gameplay experience with the Exhaust Engine. It rewards extended offensive events and time spent in the attack zone, infusing the game with a dynamic layer of authenticity and excitement.
Sustained Pressure Advantage
The offensive team gains a new edge with the Sustained Pressure System. Maintain pressure in the attack zone, and you'll trigger the Sustained Pressure perk, temporarily lowering your opponent's attributes and giving you a significant advantage.
Goalie Fatigue Dynamics
Thanks to our innovative Goalie Fatigue System, the longer you maintain offensive pressure, the more tired your opponent's goalie becomes. Fatigue affects their ability to react to shots as they wear down over time.
Realistic Physics-Based Contact
Experience realistic body checks like never before with our overhauled physics and animations. Witness new rag-doll and animation-based reactions that create unforgettable moments throughout the game.
Mastering Total Control Moves
We've revamped the control setup, making highlight-reel moves more intuitive and accessible. Plus, you can now fake, pass, or deke out of every move, adding a whole new level of creativity and strategy to your gameplay.
Precision with Vision Passing
Our re-mapped face buttons and visual iconography above pass receivers allow for more precise passing, enabling you to make passes anywhere on the ice at any time.
Effortless Human Goalie Control
Playing goalie has never been easier with our updated Human Goalie Controls. The new Tethered Control System simplifies sliding for saves, automatically returning you to a centered position so you can focus on the game.
Immersive Presentation Upgrades
From celebratory moments to the roar of the crowd and the voices in the booth, our major presentation updates will transport you to the arena and offer dynamic new ways to savor your goals.
Celebrate with Flex Moments
Experience an electrifying broadcast with over 75 new goal celebration animations, enhanced camera angles, lighting effects, and the freedom to choose your celebration style.
Energized Crowd Atmosphere
NHL 24 Ps4 boasts the most energetic Chel crowd to date. New waves of crowd reactions accompany significant stoppages, rushes down the ice, Exhaust Engine peaks, and those heart-pounding comeback moments that truly make the arena come alive.
Frostbite Engine Graphics
The Frostbite engine continues to push the boundaries with unrivaled graphics upgrades for console games. Dynamic lighting, character fidelity, and more – all contribute to bringing the action to life like never before.
Buy NHL 24 For Ps5  on GamesCard.Net with the best price ever.
Languages :
Audio : English
Screen Languages : English, French
This Game is Not a CD or Disc.
We deliver the original game to you via E-mail with a PS4-PS5 account that you can download and play for a lifetime.
FAQ.