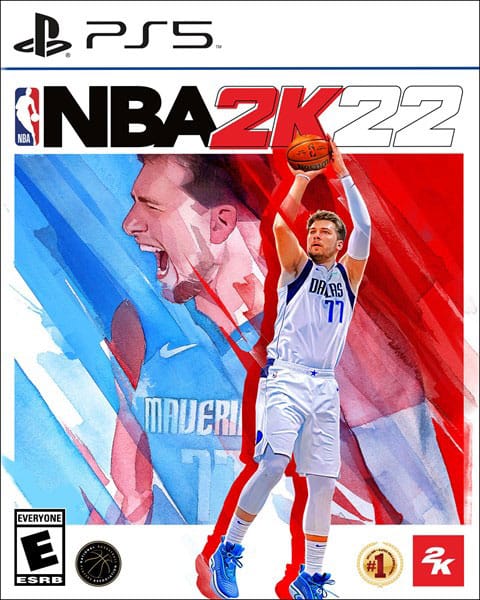 NBA 2K22 for PS5
Buy NBA 2K22 for PS5 with he cheapest price from Gamescard.Net. The latest and most popular games are on Gamescard.Net. Hurry up and get fun!
Description
Additional Info
More
Description
ANYONE, ANYWHERE – EVERYTHING IS GAME
A WORLD OF BASKETBALL
NBA 2K22 puts the entire basketball universe in your hands. PLAY NOW in real NBA and WNBA environments against authentic teams and players. Build your own dream team in MyTEAM with today's stars and yesterday's legends. Live out your own pro journey in MyCAREER and experience your personal rise to the NBA. Flex your management skills as a powerful Executive in MyNBA and MyWNBA. Anyone, anywhere can hoop in NBA 2K22.
NBA 2K22 for PS5 Features
GET IN THE REAL GAME
Play as your #1 NBA and WNBA groups and stars, and experience the genuineness of expert ball at the most significant levels. With top tier visual show and player AI, exceptional programs and noteworthy groups, and substantially more, the game has never felt more genuine and complete than it does in NBA 2K. Feel the energy of the group, the force of the opposition, and the perpetual amusement of one of the most vivid games item in gaming today.
PURSUE YOUR PRO DREAM
Step into the shoes of a yearning hotshot in MyCAREER, and cut your own way to the National Basketball Association in a Hollywood-esque hooper's excursion. Meet off-the-court companions and on-the-court adversaries, as your ascent to the top takes various exciting bends in the road – some dependent on the choices you make for yourself. Will you make your name in College or foster your game expertly in the NBA G League – or both? Or then again will you certainly take your game straightforwardly to the NBA? It's completely your story.
BE PART OF A HUGE HOOPS COMMUNITY
Regardless of whether in the City (for PlayStation5 ) or in the Neighborhood (for PlayStation4 and PC), experience your ball life in the greatest and most energetic circles local area on the planet. With your MyPLAYER, put in the energy, rep up, and overwhelm the courts. You can prepare in the Gatorade Training Facility, get the most recent stuff at SWAG'S, and contend over time in assorted Events. Be the hotshot you need to be in NBA 2K's own ball center point.
BUILD YOUR OWN DREAM TEAM
Make a definitive dream program of the present NBA stars and the previous legends in MyTEAM. A consistently remunerating experience of assortment and rivalry, MyTEAM joins the energy of finding and getting your number one player cards and the power of taking on the best lists the MyTEAM people group has to bring to the table. Play, procure, make, and contend through difficulties, competitions, and significantly more.
TAKE CONTROL OVER EVERYTHING
Accept control as General Manager – or administer the whole association from the exceptionally top as Commissioner – in the most far reaching the board reenactment experience: MyNBA and MyWNBA (MyGM and MyLEAGUE for PlayStation4  and PC). Make group, work force, and other big-time choices that will decide the achievement of a group en route to a line, and analysis with new principles, rivalry designs, and other association wide choices that will shape the game remarkablely.
EXPERIENCE THE LATEST AND GREATEST
There's continually a new thing to return to in NBA 2K: the most recent NBA/WNBA lists and Player Ratings, new Challenges and player cards in MyTEAM, the freshest stuff and b-ball Events in the City/Neighborhood, and significantly more. With consistently extending content and perhaps the most enthusiastic circles community, ball never stops in NBA 2K.
EVERYTHING IS GAME
The NBA 2K experience offers something beyond the game of b-ball; it is bands culture and everything around it. Find cutting-edge music specialists in a consistently extending 2K Beats game soundtrack. Display the most recent patterns in streetwear and circles style with your MyPLAYER. Plan your own tennis shoes, garbs, and marking for your custom groups. In NBA 2K, Everything is Game.
Buy NBA 2K22 for PS5 at cheapest price on Gamescard.Net !
Audio: English
Subtitles: Chinese (Simplified), Chinese (Traditional), English, French (France), German, Italian, Japanese, Korean, Spanish
This Game is Not a CD or Disc.
We deliver the original game to you via E-mail with a PS4-PS5 account that you can download and play for a lifetime.
FAQ.
If you want to buy coins,points etc for a game, you will need to make a new US Ps4 account and purchase using that one. Because the game belongs to a USA Ps4 account.