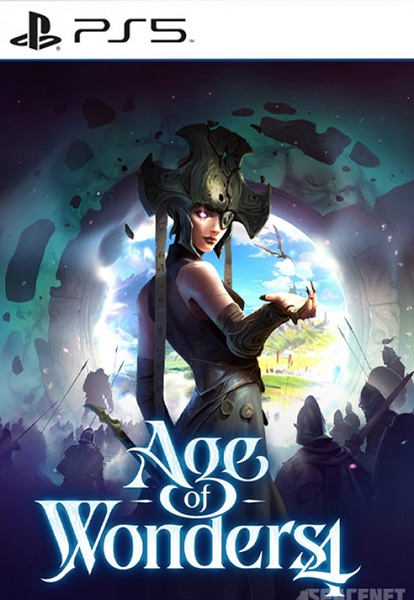 Age of Wonders 4 Ps5
Buy Age of Wonders 4 Ps5 with the best prices ever on Gamescard.Net as always! Buy now and get more fun with the game! Go Ahead!
Description
Additional Info
Description
In Age of Wonders 4, you may establish your own fantastical kingdom and rule over it! Age of Wonders' trademark mix of 4X strategy and turn-based tactical warfare invites players to explore new magical regions while engaging in turn-based tactical battles. You will be in charge of a faction that will develop and shift over the course of the game as your empire develops with each round.
The critically acclaimed strategy game franchise developed by Triumph Studios has entered a new era, taking the game's distinctive empire building, role-playing, and battlefield combat to the next level. An all-new storytelling event system and a massive amount of customization options make for an experience that can be played over and over again, with each new game adding a new chapter to your ever-expanding epic.
The all-powerful Wizard Kings have arrived back in the realms to once again rule as gods amid the populace of mortals. Take control of your people's evolution by claiming and mastering the Tomes of Magic, and get ready for an epic fight that will set the course of the ages to come.
Age of Wonders 4 Ps5 Features
Build the Kingdom of Your Wildest Dreams with this Game!
Create your own followers by fusing together various cultural characteristics, physiological shapes, and occult powers. Construct everything from a band of cannibalistic halflings to mystical moon elves, or re-create your favorite elements from other fantasy worlds.
Find potent tomes of magic to enchant your troops and develop your people, and you will have the upper hand! Watch how the appearance of your people alters as they transform into heavenly creatures or scions of chaos in order to fight their adversaries. Pursue glory via ruthless dominance, devious alliances, or ultimate esoteric knowledge, and etch your name into the very fabric of the realm itself to leave a lasting impression!
Strategy and Role-Playing Come Together Like Never Before in This Game
'Every option offers up new possibilities and tactical advantages; complex, multilayered strategy enables you to attempt new strategies or explore new powers at every turn. 'Tactical turn-based battles bring your armies to life, demonstrating their might in an environment that is molded by your decisions. 'Tactical turn-based battles bring your armies to life, showcasing their power in an environment that is shaped by your decisions. Every fight presents a new obstacle, from little skirmishes with roving monsters to massive sieges involving dozens of soldiers on each side; with the inclusion of a morale system and additional features, this is now even more true.
The game may be played an infinite number of times due to the enormous diversity of empires, armies, and landscapes. The previous entries in the series do not compare to Age of Wonders' level of customizability and open-endedness.
Leave Your Imprint on a World That Is Vast And Reactive
Discover a brand-new world with every game, or build your own from scratch! Challenge yourself with new permutations and combinations of settings and characteristics, such as frigid wastelands governed by ice queens or barren ruins where dragons roam. A new event system gives surprising layers of narrative for 4X games. See how the world around you changes as a result of your choices, from cities expanding and armies marching across the land to magic that warps the fabric of the universe. Guide your empire to greatness, but the narrative won't finish with your success or failure. Gain access to more methods to personalize your experience by promoting your rulers up the ranks of an in-game pantheon. In successive games, you will come up against your own creations, who might either be enemies or friends, giving you the opportunity to experience the next chapter in your own personal adventure.
Buy Age of Wonders 4 Ps5 with the best price on Gamescard.Net!
Audio:
English
Subtitles:
Chinese (Simplified), English, French (France), German, Japanese, Korean, Polish, Russian, Spanish
This Game is Not a CD or Disc.
We deliver the original game to you via E-mail with a PS4-PS5 account that you can download and play for a lifetime.
FAQ.