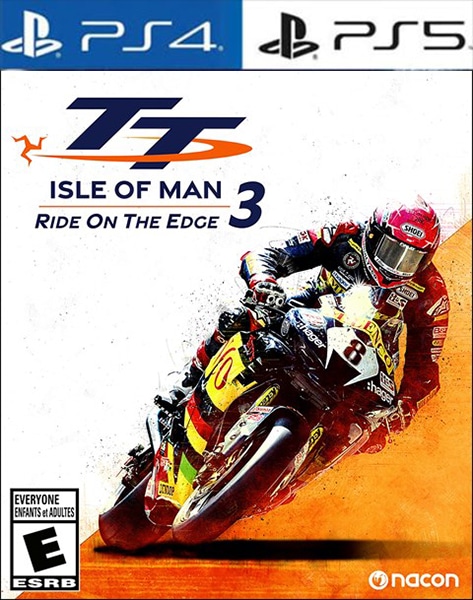 TT Isle Of Man: Ride on the Edge 3 Ps4 & Ps5
Buy TT Isle Of Man: Ride on the Edge 3 Ps4 & Ps5 on Gamescard.Net with the best prices ever! Buy now and get more fun with the newest game from here!
Description
Additional Info
Description
The Isle of Man Tourist Trophy is often considered to be the most exciting, perilous, and exciting race ever held anywhere in the world. It is a race that takes place on the roadways of the Isle of Man and is almost 60 kilometers long. The circuit has 264 turns and needs high-powered motorcycles that have been carefully prepped for the competition. The motorcyclists who take part in it dedicate their entire life to training in the hope that one day they will have the opportunity to claim the title of Isle of Man TT champion.
For a one-of-a-kind and authentic recreation of the newest TT, the game incorporates all of the event's official information, including riders, motorcycles, teams, and the course. You are thrust into the thick of the TT as though you were physically present there. You are going to experience all of the excitement and anxiety that is generated by this event. You can choose to compete in the Supersport or Superbike class, and either way, you will get the opportunity to ride over 32 unique circuits and over 200 kilometers of roads. Just pick one of the 38 official riders that are available; there are 21 in the Superbike category and 17 in the Supersport category.
TT Isle Of Man: Ride on the Edge 3 Ps4 & Ps5 Features
For the highest possible levels of immersion and simulation quality, this game includes riding that is both easy to pick up and intuitive, as well as ultra-realistic and cutting-edge physics. A great number of professional riders even utilize the game as a form of training and to educate themselves about the circuit.
The open environment that allows players to freely ride throughout the roads of the Isle of Man in search of different game modes and a broad range of challenges is the most important new addition to this version.
• A Mode Called Quick Race
• A Mode Called Career Mode
• Playing with other people online
• Competing in races on a weekly and monthly basis
Buy TT Isle Of Man: Ride on the Edge 3 Ps4 & Ps5 on Gamescard.Net!
Audio:
English, French (France), Spanish
Subtitles:
English, French (France), Portuguese (Brazil), Spanish
This Game is Not a CD or Disc.
We deliver the original game to you via E-mail with a PS4-PS5 account that you can download and play for a lifetime.
FAQ.