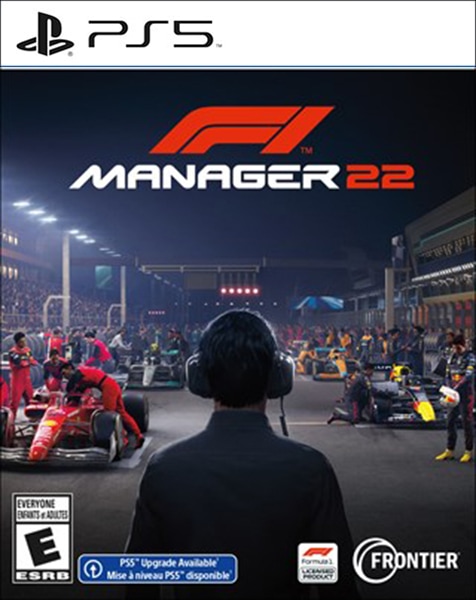 F1 Manager 2022 PS5
€54.99
Offer Ends In:
5
Days
06
Hours
14
Minutes
41
Seconds
Buy F1 Manager 2022 PS5 with the best price on Gamescard.Net! Plan perfect races with your team to prove yourself for all directors in this game! Go Ahead!
Please make sure to choose CD or Digital Ps Account versions in the below
Please Check
FAQ.
Description
Additional Info
Description
Transform Formula 1 in the formally authorized F1 Manager 2022. Be the supervisor of your picked constructor and pick from a list of 2022 drivers and staff. Highlighting full F1 authorizing and consistent with life show, you won't simply play F1 Manager 2022 – you'll live it.
F1 Manager 2022 PS5 Features
Vocation – Become the Best
Compose another section in a strong new time for Formula 1. Choose your F1 group guide them for being perfect all through the authority 2022 races at the rear of the lattice or having your spot in post position and make your choices in F1 Manager for the assignment which is to the board of the directors by hitting your season targets, move your group's prosperity into the future years.
The HQ – Build Your Team
Your constructor group are very important group. Between races, control everything about your group from HQ. Screen the presentation of your star drivers and staff, keep your funds operating at a profit, and scout top tier staff from rival groups to give yourself an additional edge for impending races.
The Factory – Perfect Your Car
Get your hands on 2022's striking new vehicle plan and race nearer to your adversaries than any time in recent memory. Make a plan for the race ahead and your vehiclesand choose your designing way – you foster an even framework, center around regions requiring improvement, or succeed in unambiguous parts of execution.
The Race – Create and Execute Your Strategy
From the beginning of races to the ending banner, you're in charge. All own choices which are from pit methodology to tire decisions to driver callouts are depending on you. Plan your methodology however be ready to respond to dynamic race occasions, for example, climate and fluctuating track conditions. Drench yourself in a hyper-practical recreation of an authority F1 race introduced in consistent with life broadcast quality.
Buy F1 Manager 2022 PS5 with the best price from Gamescard.Net!
Please Choose Your Product Version Before You Add To Cart
Product Versions:
1) Digital Playstation Account
This Game is Not a CD or Disc.
We deliver the original game to you via E-mail with a PS4-PS5 account that you can download and play for a lifetime.
FAQ.
2) CD-DISC Version
This is a physical CD version of the game. If you choose CD version your product will be shipped within 1 week.