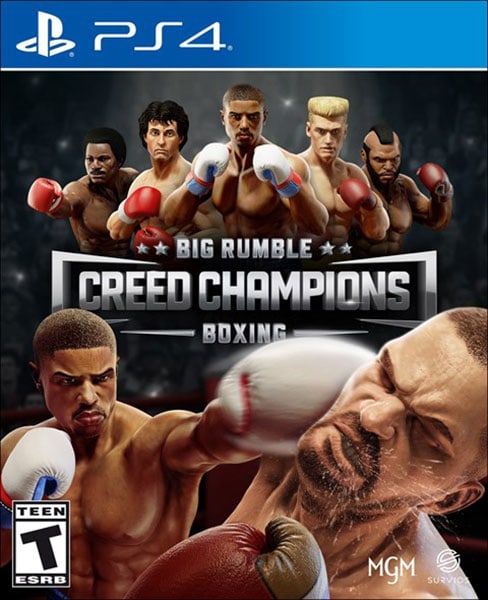 Big Rumble Boxing: Creed Champions Ps4
Buy Big Rumble Boxing: Creed Champions Ps4 at cheapest price on Gamescard.Net now. Get your game and enjoy the ring with your box ability. Show yourself!
Please make sure to choose CD or Digital Ps Account versions in the below
Please Check
FAQ.
Description
Additional Info
Description
Is it true that you are prepared to turn into a boxing champion? Step into the ring and hotshot your boxing abilities in a knockout arcade experience. Battle as 20 famous characters from the Creed and Rocky universe. Take on a-list rivals across an assortment of exciting areas, or challenge your loved ones in extraordinary, no holds barred matches.
Big Rumble Boxing: Creed Champions Ps4 Features
Pound-for-Pound Boxing for All
– Intuitive, get and-play controls
– Robust boxing mechanics
– Dynamic boxing styles and combos
– Fighter-explicit super finishers for artistic knockouts
Extreme Creed and Rocky Boxing Universe
– Legendary stories of 20 notorious and interesting characters
– Unlockable characters and outfits
– Classic Creed and Rocky preparing minutes in topical small scale games
– 13 New and unique boxing fields
Famous Champs from Creed and Rocky
– Adonis Creed
– Rocky Balboa
– Apollo Creed
– Clubber Lang
– Ivan Drago
– Viktor Drago
and that's just the beginning…
Heartbeat stirring Fun with Friends and Family
– Choose your hero and scenes
– Face off in neighborhood player-versus-player mode
Created by the group who brought you Creed: Rise to Glory for VR stages, Big Rumble Boxing: Creed Champions is the second joint effort among Survios and MGM Studios, that brings the grasping force of Creed boxing to control center and PC interestingly.
Buy Big Rumble Boxing: Creed Champions Ps4 with the best price ever on Gamescard.Net!
Audio: English
Subtitles: English, French (France), German, Italian, Spanish
Please Choose Your Product Version Before You Add To Cart
Product Versions:
1) Digital Playstation Account
This Game is Not a CD or Disc.
We deliver the original game to you via E-mail with a PS4-PS5 account that you can download and play for a lifetime.
FAQ.
2) CD-DISC Version
This is a physical CD version of the game. If you choose CD version your product will be shipped within 1 week.