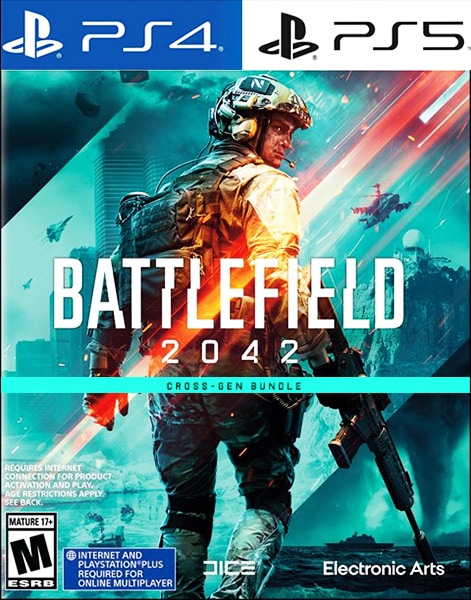 Battlefield 2042 Cross-Gen Bundle Ps4 & Ps5
Battlefield 2042 Cross-Gen Bundle Ps4 & Ps5 is available on GamesCard.Net with the cheapest price and fast delivery. Buy now and start downloading instantly.
Please make sure to choose CD or Digital Ps Account versions in the below
Please Check
FAQ.
Description
Additional Info
Description
Buy Battlefield 2042 Cross-Gen Bundle Ps4 & Ps5 and get both versions. You can start downloading the game within 60 minutes after purchasing the game.
Battlefield 2042 Cross-Gen Bundle Ps4 & Ps5 Features
• Irish – Battle Hardened Legendary Skin
• Baku ACB-90 scuffle takedown blade
• "Mr Chompy" Epic Weapon Charm
• "Landfall" Player Card Background + "Old Guard" Tag
Battlefield 2042 Cross-Gen Bundle Ps4 & Ps5 is a first-individual shooter that denotes the re-visitation of the notable hard and fast fighting of the establishment. In a not so distant future world changed by jumble, adjust and defeat powerfully changing landmarks with the assistance of your crew and a state of the art arms stockpile.
With help for 128 players on PlayStation®5, and for 64 players on PlayStation®4, Battlefield™ 2042 welcomes extraordinary scale on tremendous milestones. Players will take on a few encounters involving raised forms of Conquest and Breakthrough, Battlefield™ Portal; another local area driven stage where players can make, share and find surprising fights from Battlefield's notorious past, present and future, and Battlefield™ Hazard Zone; a strained, crew centered endurance experience where each shot, each conflict, and each choice counts.
Languages:
English, French, Spanish (Latino), Portuguese
Please Choose Your Product Version Before You Add To Cart
Product Versions:
1) Digital Playstation Account
This Game is Not a CD or Disc.
We deliver the original game to you via E-mail with a PS4-PS5 account that you can download and play for a lifetime.
FAQ.
2) CD-DISC Version
This is a physical CD version of the game. If you choose CD version your product will be shipped within 1 week.