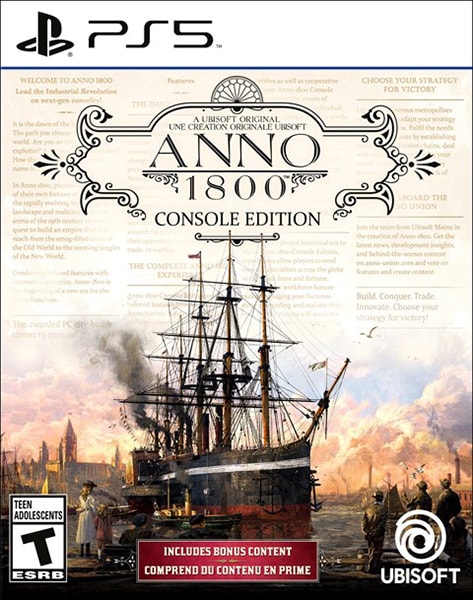 Anno 1800 Console Edition Ps5
Buy Anno 1800 Console Edition Ps5 on Gamescard.Net with the good prices! The latest strategy game is taking you to the new world! Buy now!
Description
Additional Info
Description
In this real-time strategy game focused on city-building, you have arrived at the beginning of the Industrial Age. Discover new technology, places, and cultures while putting your own plan into action and creating a new world according to your specifications during one of the most dynamic and rapidly evolving eras in the history of the globe.
You may choose to play the game on your own or utilize the internet option to compete in PvP or co-op modes: You have complete control over how other people recall your name.
Anno 1800 Console Edition Ps5 Features
THE BEGINNING OF ANOTHER TIME : Demonstrate your abilities as you make enormous urban areas, plan strategic organizations, settle lavish new landmasses, convey campaigns all over the planet, and rule adversaries by tact, exchange, or fighting.
BUILD YOUR OWN EMPIRE by constructing massive metropolises, overseeing the growth of a vibrant economy, and defending your creations from attack by other players. In order to ensure the success of your city, you will need to have the ability to respond effectively to any circumstance that may emerge.
A ONE-OF-A-KIND EXPERIENCE IN CITY-BUILDER: Feature-packed with a narrative-driven campaign, a fully-customizable sandbox mode, and a robust multiplayer mode.
NEW FEATURES FOR A NEW AGE, including the ability to go on adventures around the world in search of fame and money, as well as a new workforce feature that will make the administration of your factories more difficult and realistic than it has ever been before.
DIFFERENT GAMES AND MODES OF PLAY: You have complete control over the nature of the game! You may put your skills to the test against a wide range of AI characters, or you can concentrate on constructing and enhancing an enormous empire.
Buy Anno 1800 Console Edition Ps5 on Gamescard.Net with the best prices ever!
Audio:
English, French (France)
Subtitles:
English, French (France), Spanish
This Game is Not a CD or Disc.
We deliver the original game to you via E-mail with a PS4-PS5 account that you can download and play for a lifetime.
FAQ.