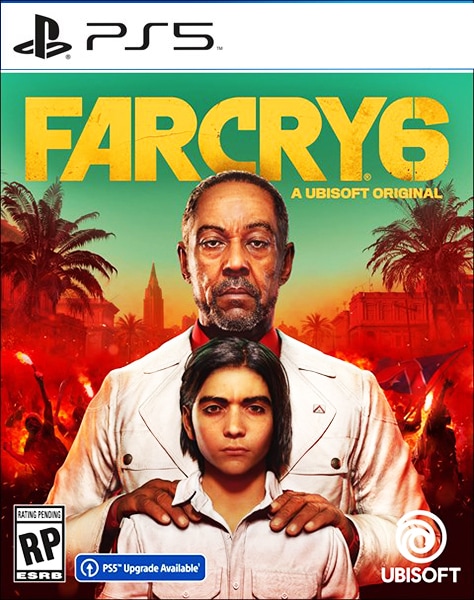 Far Cry 6 Ps5
Offer Ends In:
11
Days
03
Hours
38
Minutes
01
Second
Far Cry 6 Ps5 game, the continuation of the series for adventure game lovers, is on GamesCard.Net with the best prices and discounts. Buy now.
Description
Additional Info
Description
Far Cry 6 Ps5 is an unquestionable requirement play insight for aficionados of Ubisoft's lead first-individual shooter series. New components, for example, the Supremo and different ammunition types, work really hard of brightening up a natural equation. Simultaneously, the series' unshakable gunplay and invigorating investigation are more welcoming than any other time. Despite the fact that it now and then staggers, both as far as execution and tone, navigating the island country of Yara is excessively fun such that you presumably will not mind too a lot.
Regardless of whether crushing the framework solo or collaborating with an individual political dissident for some internet based community, Far Cry 6 Ps5 makes certain to give rocker guerillas something worth battling for. Viva La Revolución!
Far Cry 6 Ps5 Features
Join the unrest as you play as Dani Rojas, a nearby Yaran, and become a guerrilla contender to free your country.
Battle against Anton's soldiers in the biggest Far Cry jungle gym to date across wildernesses, sea shores, and Esperanza, the capital city of Yara.
Utilize shoddy weapons, vehicles, and creature allies to set Anton's merciless system ablaze.
Buy Far Cry 6 Ps5 at cheap price and start do download it in minutes.
Languages:
Voice: English, French (France), Portuguese (Brazil), Spanish (Latino)
Screen Languages: English, French (France), Portuguese (Brazil), Spanish (Latino)
This Game is Not a CD or Disc.
We deliver the original game to you via E-mail with a PS4-PS5 account that you can download and play for a lifetime.
FAQ.