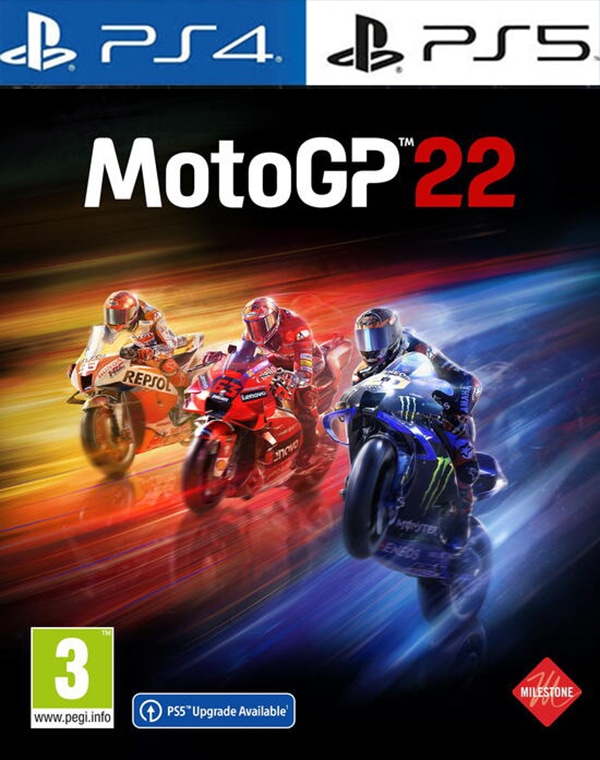 MotoGP 22 PS4 & PS5
€69.99
Buy MotoGP 22 PS4 & PS5 with a good price from Gamescard.Net and get more fun with the experiences of the newest adventure.
Description
Additional Info
Description
Motors running: how about we get the most vivid and true MotoGP gaming experience at any point began. Virtual and Real have never been so mixed!
MotoGP 22 PS4 & PS5 Features
The whole universe of MotoGP
Investigate all the new happy of the 2022 MotoGP Season. North of 120 riders, in excess of 20 authority circuits and every one of the feelings of the authority title are hanging tight for you.
Furthermore, to take a plunge before, in excess of 70 verifiable bosses will permit you to remember the very best of the MotoGP history.
Nine Season 2009
Live again one of the most intriguing and notable titles in MotoGP history!
17 Chapters, one for every Grand Prix of the 2009 season, lie ahead! Put yourself in the boots of legends like Rossi, Lorenzo, Stoner and Pedrosa at the pinnacle of their professions. In every episode you will confront various difficulties remembering firsthand the most famous snapshots of the big showdown. All items will be upgraded by over 50 minutes of genuine film toward the start of every part, altogether described and coordinated by Mark Neale, overseer of the best MotoGP narratives.
Where champions are made
Turn into the rider you've for practically forever needed to be with new instructional exercises that will assist you with further developing rapidly through short ongoing interaction meetings or enter the MotoGP Academy to uncover the boss in you! Through new game difficulties you will realize every one of the subtle strategies to be the quickest on each track.
Experience the most practical gaming experience and tweak your ride
Profound plunge into the most reasonable and vivid MotoGP experience of all time!
From the essences of your legends to the restyling of the authority boxes, everything about been dealt with more than ever.
Make you own reality in MotoGP videogame and race considerably more upscale: because of 5 strong realistic editors you will actually want to redo each part of the game, from the attires to the suits of the riders.
Plan your prosperity with the administrative profession!
Make your own group or join an authority one. Pick your staff and foster your bicycle further developing motor, edge, optimal design, and hardware: assume full command over your gaming experience! Make a lesser group in Moto2 and Moto3: recruit a group supervisor, specialized chief and a rider to accomplish new objectives.
New Multiplayer
Without precedent for the establishment, you will actually want to challenge your companion in 2-player Split-screen mode: don't pass up on this opportunity! What's more, on the off chance that that is sufficiently not, appreciate insane cross-play fights online!
MotoGP 22 PS4 & PS5 is game with the best price on Gamescard.net!
Audio:English, French (France), German, Italian, Portuguese (Brazil), Spanish
Subtitles:Chinese (Simplified), Chinese (Traditional), English, French (France), German, Italian, Japanese, Portuguese (Brazil), Spanish, Thai
This Game is Not a CD or Disc.
We deliver the original game to you via E-mail with a PS4-PS5 account that you can download and play for a lifetime.
FAQ.