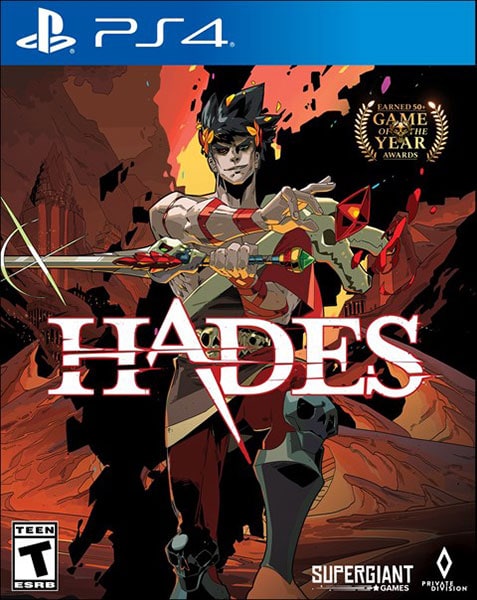 Hades Ps4
Offer Ends In:
11
Days
02
Hours
56
Minutes
20
Seconds
Buy Hades Ps4 at cheapest price on Gamescard.Net! Get it and have fun with your new friends who are Gods, Ghosts and Monsters!
Description
Additional Info
Description
Oppose the lord of the dead as you hack and slice out of the Underworld in this rebel like prison crawler from the makers of Bastion, Transistor, and Pyre.
Hades Ps4 Features
BATTLE OUT OF HELL
As the everlasting Prince of the Underworld, you'll use the forces and mythic weapons of Olympus to break liberated from the grasp of the lord of the dead himself, while developing further and disentangling a greater amount of the story with every exceptional departure endeavor.
UNLEASH THE FURY OF OLYMPUS
The Olympians have you covered! Meet Zeus, Athena, Poseidon, and some more, and browse their many amazing Boons that improve your capacities. There are a large number of practical person works to find as you go.
BEFRIEND GODS, GHOSTS, AND MONSTERS
A completely voiced cast of bright, amazing characters is holding on to meet you! Develop your associations with them, and experience a huge number of exceptional story occasions as you find out with regards to what's truly in question for this huge, useless family.
BUILT FOR REPLAYABILITY
New amazements anticipate each time you dig into the consistently moving Underworld, whose gatekeeper supervisors will recollect you. Utilize the incredible Mirror of Night to develop for all time further, and surrender yourself a leg the following time you flee from home.
NOTHING IS IMPOSSIBLE
Long-lasting overhauls mean you don't need to be a divine being yourself to encounter the thrilling battle and holding story. However, on the off chance that you end up being one, wrench up the test and prepare for some white-knuckle activity that will scrutinize your all around rehearsed abilities.
SIGNATURE SUPERGIANT STYLE
The rich, climatic show and extraordinary merging of ongoing interaction and story that has been center to Supergiant's games is here in full power: breathtaking hand-painted conditions and a blood-siphoning unique score rejuvenate the Underworld.
Buy Hades Ps4 with the minimum cost from Gamescard.Net!
Audio:English
Subtitles:Chinese (Simplified), English, French (France), German, Italian, Japanese, Korean, Polish, Portuguese (Brazil), Russian, Spanish
This Game is Not a CD or Disc.
We deliver the original game to you via E-mail with a PS4-PS5 account that you can download and play for a lifetime.
FAQ.