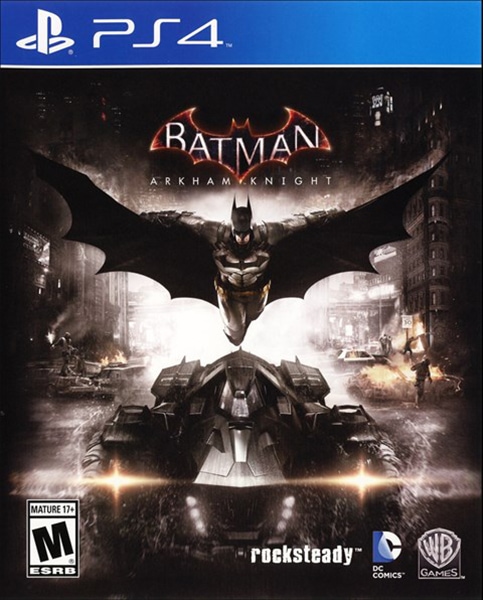 Batman: Arkham Knight Ps4
Batman fans are here! Batman: Arkham Knight Ps4 game is on GamesCard.Net with the best price and instant delivery options.
Description
Additional Info
Description
Batman: Arkham Knight Ps4 brings the honor winning Arkham set of three from Rocksteady Studios to its epic decision. Grown solely for New-Gen stages, Batman: Arkham Knight presents Rocksteady's remarkably structured rendition of the Batmobile.
The profoundly foreseen expansion of this unbelievable vehicle, joined with the acclaimed ongoing interaction of the Arkham arrangement, offers gamers a definitive and complete Batman experience as they tear through the roads and take off over the horizon of the sum of Gotham City. In this hazardous finale, Batman faces a definitive danger against the city that he is promised to secure, as Scarecrow comes back to join the super lawbreakers of Gotham and decimate the Batman until the end of time.
Item FEATURES:
"Be The Batman"
Live the total Batman experience as the Dark Knight enters the closing part of Rocksteady's Arkham set of three. Players will turn into The World's Greatest Detective more than ever with the presentation of the Batmobile and upgrades to signature highlights, for example, FreeFlow Combat, covertness, crime scene investigation and route.
Presenting the Batmobile
The Batmobile is rejuvenated with a totally new and unique structure including an unmistakable visual appearance and a full scope of on-board innovative gadgetry. Intended to be completely drivable all through the game world and equipped for change from rapid interest mode to military level fight mode, this amazing vehicle sits at the core of the game's structure and permits players to tear through the lanes at mind boggling speeds in quest for Gotham City's most hazardous scalawags. This notable vehicle likewise enlarges Batman's capacities in each regard, from route and legal sciences to battle and puzzle comprehending making a certifiable and consistent feeling of the association of man and machine.
The Epic Conclusion to Rocksteady's Arkham Trilogy
Batman: Arkham Knight carries hard and fast war to Gotham City. The attempt at manslaughter clashes of Batman: Arkham Asylum, which swelled into the overwhelming intrigue against the prisoners in Batman: Arkham City, comes full circle in a definitive standoff for the eventual fate of Gotham. Helpless before Scarecrow, the destiny of the city remains in a critical state as he is joined by the Arkham Knight, a totally new and unique character in the Batman universe, just as a colossal program of different scandalous scalawags including Harley Quinn, The Penguin, Two-Face and the Riddler.
Investigate the whole of Gotham City
Just because, players have the chance to investigate all of Gotham City in a totally open and free-wandering game world. In excess of multiple times that of Batman: Arkham City, Gotham City has been rejuvenated with a similar degree of private, hand-made tender loving care for which the Arkham games are known.
Most Wanted Side Missions
Players can completely submerge themselves in the disarray that is emitting in the boulevards of Gotham. Experiences with prominent criminal driving forces are ensured while likewise offering gamers the chance to concentrate on and takedown singular scoundrels or seek after the center way.
New Combat and Gadget Features for Batman: Arkham Knight Ps4
Gamers have available to them more battle moves and innovative gadgetry than any other time in recent memory. The new 'devices while floating' capacity permits Batman to send devices, for example, batarangs, the grapnel weapon or the line launcher mid-skim while Batman's tool belt is by and by moved up to incorporate every single new device that grow his scope of measurable examination, secrecy attack and battle abilities.
Buy Batman: Arkham Knight Ps4 with the cheap price.
German
Spanish (Latin America)
English
Italian
French
Spanish
German
Russian
Korean
Spanish (Latin America)
English
Italian
French
Polish
Spanish
This Game is Not a CD or Disc.
We deliver the original game to you via E-mail with a PS4-PS5 account that you can download and play for a lifetime.
FAQ.