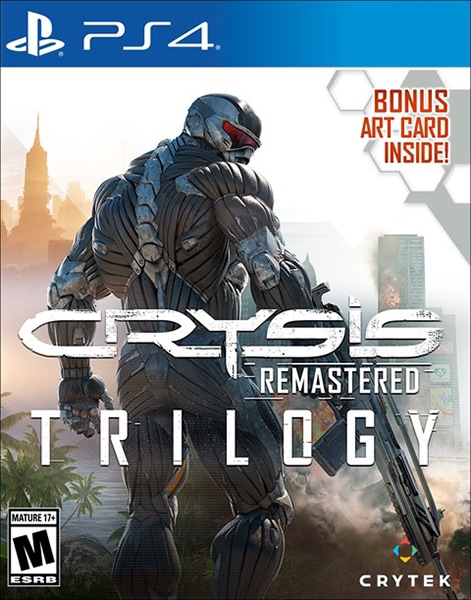 Crysis Remastered Trilogy PS4
Offer Ends In:
7
Days
03
Hours
31
Minutes
29
Seconds
Buy Crysis Remastered Trilogy PS4 at cheap price right now on GamesCard.Net and experience this unique and adventurous trilogy. Equip your weapons and save the world.
Description
Additional Info
Description
Crysis Remastered Trilogy incorporates every one of the single-player crusades from the amazing first-individual shooters Crysis, Crysis 2, and Crysis 3, advanced for the today's hardware. Relive the experience in this incredible worth all-in-one bundle.
Crysis Remastered Trilogy Includes:
Crysis Remastered
What starts as a straightforward rescue mission becomes the battleground of another conflict as alien invaders swarm over a chain of Lingshan islands.
Playing as super-soldier Nomad, you are armed with a powerful Nanosuit equipped with Speed, Strength, Armor, and Cloaking abilities.
Use a vast arsenal of modular weaponry and adapt your tactics and gear to dominate enemies in an colossal sandbox world.
Crysis 2 Remastered
Aliens have gotten back to a world assaulted by climate disasters. As the invaders ruin to New York and start an attack that undermines the complete annihilation of humankind, just you have the innovation to lead the fightback.
Equipped with the upgraded Nanosuit 2.0, customize your suit and weapons in real-time and unlock powerful new abilities in the battle for humanity's survival.
Crysis 3 Remastered
Getting back to the battle as a super-soldier Prophet, the quest for the alien Alpha Ceph continues, however you must unveil the secret behind the C.E.L.L. corporation, which has transformed New York City into a rambling metropolitan rainforest protected by a goliath nanodome.
Battle through seven unmistakable locale and obliterate your adversaries in a blast of brute force using the Nanosuit's superior technology or use stealth to achieve your goals and become humanity's silent savior.
Equipped with your strong and lethal new Predator Bow, there's no incorrect method for saving the world.
Buy Crysis Remastered Trilogy PS4 At The Best Price On GamesCard.Net
Languages:
Audio: English, French (France), German, Italian, Japanese, Polish, Russian, Spanish, Turkish
Screen Languages: Chinese (Simplified), Chinese (Traditional), Czech, English, French (France), German, Italian, Japanese, Polish, Russian, Spanish, Spanish (Mexico), Turkish
This Game is Not a CD or Disc.
We deliver the original game to you via E-mail with a PS4-PS5 account that you can download and play for a lifetime.
FAQ.