Sackboy: A Big Adventure PS4
Offer Ends In:
9
Days
15
Hours
09
Minutes
33
Seconds
One of the best action games, Sackboy: A Big Adventure PS4 game is on GamesCard.Net with the best price on the market. Buy now and take advantage of the big discount.
Please make sure to choose CD or Digital Ps Account versions in the below
Please Check
FAQ.
Description
Additional Info
Description
If you are someone who loves platform video games and you if you are desperately waiting for the Sackboy: A big adventure, then we hasgood news for you. Yes, your favourite gameplay is finally all set to make its biggest release this Novemberand we know how excited our gaming lovers are. Are you excited to find out some interesting details and descriptions of this interesting gameplay? Well, let us share some details with you and make you even more excited! Read on, to find out what is going to be new this time in your favourite Sackboy: A Big Adventure.
The Sackboy: A big Adventure PS4 is going to be a video game based on platform gaming and this amazing thriller is going to be a whole new level of experience for gaming lovers who love platform games. The Sackboy: A big Adventure PS4 is going to be a development of Sumo Digital and it's going to be published by Sony Interactive Entertainment. The Sackboy: A big adventure is going to be released and will be available for Play Station 4 this November, isn't that great news?
Sackboy: A big Adventure PS4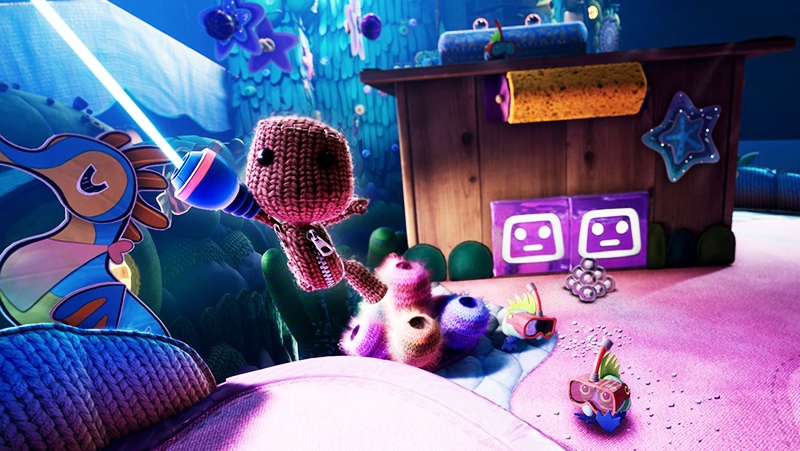 Now our gaming lovers will be wondering what exactly is the narrative and features of the new Sackboy: A Big Adventure PS4? Like, we have mentioned earlier the Sackboy PS4 is going to be a platform game, but the new and advanced series is going to be very different from the previous version of Little Big Planet series. The previous series was based on 2.5D of platforming, but the Sackboy: A big Adventure PS4 is going to be based around various perspectives and the players are going to experience a new feature of the 3D movement. Not just these the Sackboy PS4will also give you a unique experience with the Sackboy travelling into various fields and ventures, yes! The Sackboy will be seen visiting various places through runaway train and will go through outer space, underwater, various mountain places including the snowy ones and so on.
If you are a true gaming lover and have played previous little big Planet games then you must be aware of the main character of the video game which is a Sackboy, who has also been featured in the previous gaming series. The new features allow up to four people to play together in the Sackboy: A Big Adventure PS4, isn't that interesting? You can easily avail this feature well with your friends and family and get to experience this adventurous and thrilling ride with them.
Sackboy: A Big Adventure PS4 Features
The Sackboy: A Big Adventure PS4is going to be the next big instalment made in the series of Little Big Planet. If you are a video gaming lover, then you must be aware of this little iconic character of Play Station who is favourite of many gaming lovers and is popularly known as the Sackboy. Your favourite platform hero will be seen performing adventurous tasks and eye-catchy action moves, you will get to experience exciting multiplayer platforming too that will be 3D, yes you read it right! 3D platforming! This will be a whole new fun and intriguing experience in the history of Sumo Digital and you will be witnessing your iconic Sackboy in a different kind of avatar and smashing and bashing of his enemies head and striking a unique and edgy appearance.
The plot twist is going to be the most fascinating aspect of this gameplay Sackboy: A Big Adventure PS4and our valuable gaming lovers will be experiencing this modernized gameplay with a bit of traditional twist and turn, you must be wondering how? Well, the gameplay is set in the areas of Craft world where all the sacklings reside with mutual love and harmony in between them, and one day it turns out that a very powerful and dangerous enemy Vex kidnaps the Sackboy's friends and in return, he forces the Sackboy and people of his Craft world to build him a Topsy Turver.
The very sweet and magical Craft world, with pure and innocent souls and the imaginative fantastical homeland of the Sackboy, will turn into a horrifying and barren homeland of ultimate horror and grief. And this is when the main and loved hero Sackboy will rise as a knight in shining armour and will save this homeland and his friends. The newer gaming edition of the Sackboy PS4 will show the Sackboy as more active and responsive kind of character, who will be seen performing various kinds of stunts in the improve and advanced features of the platformer gaming.
The players will experience more responsive controllers with the help of various unique and interesting stunts that the Sackboy will be seen performing. Some of those fascinating stunts and moves are the melee striking, flutter jumping, doing dodge-rolls and performing rolling down on various heightened or inclined surfaces. How interesting does that sound, right? Not just these kicks and jumps but the gameplay will also let the players go through various other features and skills as the gameplay will keep on progressing. Another exciting feature that the game developers have introduced in this Sackboy PS4 is allowing the players to decide their own gaming style and how they want to it further, you can also call it as a customizable controller, since it provides the gaming experts various unique options and features and how they want to style and play their game.
Buy Sackboy: A Big Adventure Ps4
The game is available on pre-ordering on all the gaming websites, but Gamescard.net knows that their customers are wondering about the Sackboy: A Big Adventure PS4 price, and they understand the emotions of all gaming lovers and we provide our customers with best and original games within cheap price rates, yes you read it right!
Buy Sackboy: A Big Adventure PS4 in cheap price rates from our website throughout the year, and since we know most of our clients cannot contain their excitement so we have a piece of good news for you all, our gaming website is also taking pre-orders for the game and you can buy Sackboy: A Big Adventure PS4 cheap,  from our website and avail all the exciting bonuses that the game has on pre-ordering, so what are you waiting for? Get moving, and get your favourite game in best and cheap price rates right away.
Audio: English, French, Portuguese (Brazil), Spanish (Latin)
Screen Languages: English, French (Canada), Portuguese (Brazil), Spanish (Latin)
Please Choose Your Product Version Before You Add To Cart
Product Versions:
1) Digital Playstation Account
This Game is Not a CD or Disc.
We deliver the original game to you via E-mail with a PS4-PS5 account that you can download and play for a lifetime.
FAQ.
2) CD-DISC Version
This is a physical CD version of the game. If you choose CD version your product will be shipped within 1 week.