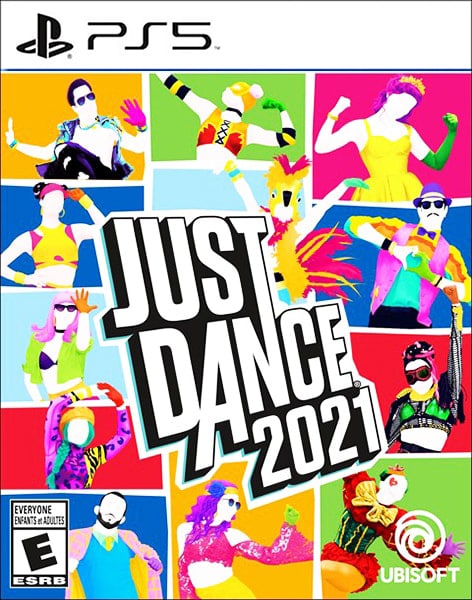 Just Dance 2021 PS5
Just Dance 2021 PS5 game is on GamesCard.Net with the cheapest price and fast delivery. Buy now .
Description
Additional Info
Description
Get together and share it to the world: it's an ideal opportunity to dance with Just Dance 2021!
The #1 Music Video Game Franchise of All Time*, with more than 70 million units sold**, is back this fall.
With 40 new tunes and universes, Just Dance will make you move throughout the year!
Join a local area of in excess of 120 million players all throughout the planet and dance it out!
Just Dance 2021 PS5 Features
Never botch an opportunity to dance! 40 new should dance melodies are coming to Just Dance 2021.
Regardless of whether they are graph beating hits, extraordinary works of art for families, viral web marvels or arising craftsmen you need to know: there is sufficient music for everybody in Just Dance 2021!
Submerge yourself in a huge number of imaginative universes, incorporating some made with inventive and unique creation methods.
Extravagant a fast meeting? Utilize the fast play catch to dispatch an irregular playlist custom-made to your own taste.
What do you want to do today? Pick the element that best accommodates your style!
Practicing has never been so fun! Start your own daily practice with the Sweat Mode and keep yourself propelled by following the calories consumed and the time spent moving.
Screen and improve your exhibition! Find your new point by point score recap and contrast your score and your companions.
Gather some wonderful stickers all through the game with the sticker collection.
More grounded together! Collaborate with companions and offer the great gratitude to the Co-operation mode. Get together and consolidate scores to administer the dancefloor!
Never to youthful to dance! The Kid Mode is customized for the necessities of the most youthful players. They can appreciate 8 new child amicable melodies and movements for a great dance insight.
Enough is rarely enough! Access the Just Dance Unlimited membership based real time feature to (re)dance on 550+ tunes and the sky is the limit from there! Each duplicate of the game accompanies 1-month's entrance!
Continue moving throughout the year with Just Dance 2021!
There is consistently motivation to dance with Just Dance.
Ensure you partake in the occasional occasions with in-game difficulties, transitory free tunes and themed playlists. Look at the upgraded landing page for the most recent news and appreciate altered proposal for tunes, playlists and fun recordings to watch.
Dance until you drop with Just Dance Unlimited! More tunes and substance will be added over time to improve player's experience.
Dance the manner in which you like it! Tracking down the ideal tunes has never been so natural with our personalization prospects.
Because of an improved proposal framework, Just Dance offers you modified substance as per your moving propensities and inclinations.
Investigate new universes! Pick the ideal pre-made playlist and find tunes that will before long turn into your top choices.
The natural interface permits you to effectively customize your game insight. Pick your main tunes among the consistently developing Just Dance list and make your own special playlists!
Challenge individual Just Dancers from everywhere the world during perpetual competitions. You will be gone up against to players with a comparable level as yours for a reasonable dance fight.
Appreciate Happy Hour meetings to experience Just Dance Unlimited and make a big difference for the gathering!
No comfort? Get the fun together with Google Stadia!
Experience Just Dance straightforwardly from your Chrome program, no comfort required! The Stadia stage empowers cross-screen interactivity on PCs, work areas, and chose telephones and tablets.
No extra extras are needed to join the good times! Just utilize your cell phone with the Just Dance Controller application!
Utilize your cell phone to explore in-game, track and score your moves – no camera, Kinect, or PS Move required! Up to 6 players can play with their telephones all the while.
Buy now Just Dance 2021 PS5 with the best price on GamesCard.Net!
Audio: English, French (France), German, Italian, Spanish
Subtitles: English, French (France), German, Italian, Portuguese (Brazil), Spanish
This Game is Not a CD or Disc.
We deliver the original game to you via E-mail with a PS4-PS5 account that you can download and play for a lifetime.
FAQ.