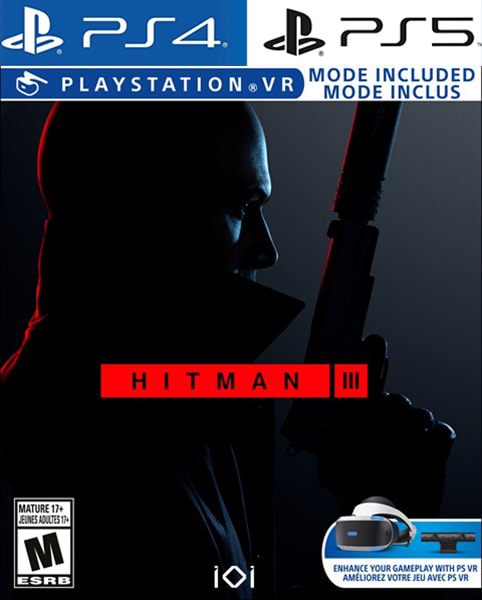 Hitman 3 Ps4 & Ps5
Hitman 3 Ps4 & Ps5 game, the last game of the series, is on GamesCard.Net with the cheapest price and fast delivery guarantee. Buy now and start to play immediately.
Description
Additional Info
Description
Hitman 3 is the emotional end to the World of Assassination set of three and takes players around the planet on a globetrotting experience to rambling sandbox areas. Specialist 47 returns as a savage proficient for the main agreements of his whole profession. Passing Awaits.
Appreciate unmatched opportunity and complete your targets as the game world responds to all that you do. IO Interactive's honor winning Glacier innovation powers HITMAN 3 Ps4 & Ps5's vivid game world to offer unrivaled player decision and replayability.
Play HITMAN 3 in VR* with another first-individual point of view and really drench yourself in the World of Assassination. PlayStation VR uphold allows you to stand vis-à-vis with your objectives and look at them without flinching, mix in to a bustling group and hear the jabber and discussions occurring around you and collaborate with things utilizing your hands. 20+ areas from the World of Assassination set of three are upheld in VR when played in HITMAN 3.
Hitman 3 Ps4 & Ps5 Features
Mission Mode
Mission mode will take you on a globetrotting experience to rambling sandbox areas and will convey an emotional end to the World of Assassination set of three.
Tricky Targets
Tricky Targets are a definitive Hitman challenge and are intended to offer an energizing, beat beating experience. You need to find an extraordinary objective, with practically zero assistance from the HUD or Instinct and incubate an arrangement to dispose of them on the fly.
Accelerations
Expect your interactivity abilities to be pushed as far as possible as new components are tossed at you in each phase of the agreement. Camouflage limitations, added surveillance cameras and different sorts of different entanglements will be tossed your direction.
Agreements Mode
Pick your own objectives, pick how to dispose of them and afterward make everything occur. Whenever you've finished the agreement yourself, challenge companions to vie for the best score on the leaderboards.
*Requires PSVR Headset
Buy Hitman 3 Ps4 – Ps5 now with the best price!
Audio: English
Screen Languages: English, French, German, Italian, Spanish
This Game is Not a CD or Disc.
We deliver the original game to you via E-mail with a PS4-PS5 account that you can download and play for a lifetime.
FAQ.