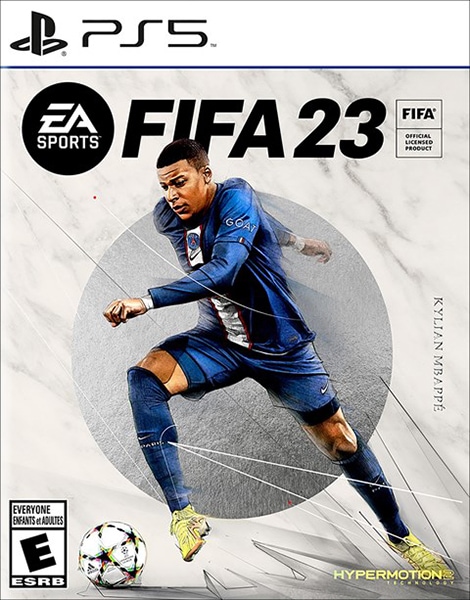 FIFA 23 PS5
Offer Ends In:
8
Days
12
Hours
41
Minutes
01
Second
Buy Fifa 23 Ps5 now at best price on the market. This playstation game is on gamescard.Net with instant (Within 60 Minutes) delivery option after purchase.
Description
Additional Info
Description
FIFA 23 PS5 – The Most Realistic Videogame Football, YET
The World's game is going to come to your Playstation with brand new features such as both men's and women's FIFA World Cup and woman's club teams. There will also be more realistic action to make gamers feel like they are playing a lifelike game.
You should buy Fifa 23 to experience football at its best.
FIFA 23 PS5 FEATURES
FIFA World Cup Both Men's and Women's 
Gamers will be able to create the FIFA World Cup before it happens in the real world and to double the fun, it is going to be FIFA World Cup Qatar 2022 and FIFA Women's World Cup Australia and New Zealand 2023. You can experience the world's game at its top by buying Fifa 23.
Women's Club Football
There are more female players in the game now and also, first time ever, you can play women's club teams in the two leagues, Barclays FA Women's Super League and Division 1 Arkema.
New Clubs and Stadiums 
Juventus comes back to Fifa 23 for its fans. There are some new stadiums such as Spotify Camp Nou, Juve Allianz Stadium, and Nottingham Forest City Ground.
HyperMotion2
A huge variety of new technologies were used to make the game more realistic than ever before. HyperMotion2 technology brings more realism to the Fifa 23 pitch with its motion capture and machine learning technology. If you buy Fifa 23 from GamesCard.Net, you will feel every step on the pitch at cheaper price.
Cross-Play
In FIFA 23, cross-play will enable gamers to compete and play with friends and opponents on other platforms from the same generation. The Ps5, Xbox Series X|S, Stadia, and PC versions are compatible among themselves, and PS4 and Xbox One are compatible with each other. There is a variety of online game modes for players to compete and play against each other across multiple platforms.
Matchday Experience
To improve the matchday experience, Fifa 23 includes augmented reality hyperrealistic field surfaces and increased stadium ambiance.
The grass on the pitch is designed to be seen as more realistic than ever and the marks players made when they move around the pitch will stay through the entire game.
Career Mode With Fifa 23 Ps5
Player Personality – It is the major feature of the career mode in Fifa 23. Aim to create a strong personal bond between players on the virtual field and the ones behind the console. Player personality shapes the Players' character based on their decisions at the game and the attitude they have off the field. There are 3 personalities and they differ from each other on certain points, Maverick( Aggressive, ambitious), Heartbeat( complete team player), and Virtuoso(skillful, intelligent, can change a game's ending).
Playable Highlights – You can control crucial moments in matches to determine their outcomes, while the match engine simulates the rest of the game. No need for long hours playing. You can win certain prizes by only playing highlights of the match.
As a manager, you may select whether to play all of the game's highlights or only the offensive ones by letting the simulation determine the defensive results.
As a Player, Playable Highlights gives you the choice between managing the complete team or only the player you started your career with, similar to playing an entire match.
Dynamic Moments- With the goal of making your adventure more realistic and unforgettable, additional cinematics can be accessed while you play by making the starting lineup for your team in the Player Career or negotiating with agents in the Manager Career.
FIFA 23 Ps5 Ultimate Team (FUT)
In FUT 23, you'll have fun with fresh ways to play and receive prizes as you assemble your dream team.
FUT Transfer Market-The same FUT Transfer Market will be used and items will be seen by the players from other platforms.
FUT Leaderboards-There will be a global leaderboard.
Moments– Players will be able to earn Stars (which could be used to redeem players, packs, and more)by completing different short scenarios with a variety of levels.
Chemistry-The relationship between the footballers in your team based on their club, league, and nation is known as "chemistry" in FIFA 23's  Ultimate Team. The higher the statistical boost your players receive to improve your team's prospects on the field, the more players you have from the same characteristics.
Heroes-FIFA and Marvel have teamed up to make FUT Heroes into Super Heroes in FIFA 23. For 21 of the chosen FIFA World Cup FUT Heroes, the original illustrated graphics will take the place of actual player images.
Buy Fifa 23 Ps5 now at best price ever.
Pro Clubs & VOLTA Football
Both Pro Clubs and VOLTA FOOTBALL are game modes made to be played with friends, where you can spend time together, compete with one another, and create memories. The main distinction is that you can play Pro Clubs for an actual football experience, and you can play VOLTA for relaxation.
You can advance any way you wish in FIFA 23's two modes, whether it's by climbing the ranks in Pro Clubs or competing against your friends in a variety of party games in VOLTA Arcades. In order to earn and unlock additional content for your avatar all year long, there is a live service component to Pro Clubs through linked Seasons Progress between Pro Clubs and VOLTA FOOTBALL.
Skill Games in Clubs- Players compete against one another in Skill Games in FIFA 23's Pro Clubs mode to earn Player Growth XP up to a weekly limit. The more XP you acquire, the more difficult the Skill Game is and the higher your rank. Even if you just have a short amount of time to play, you may still improve your abilities while moving forward and raising your Pro.
Avatar Customisation- You may now collect Seasonal Points that can be used to unlock new items for your Virtual Pro whether you play VOLTA FOOTBALL (Arcades, Squads, and Battles) or Pro Clubs (Drop-Ins, League, Cup, and Friendly Matches). You can customize your appearance with tattoos, facial accessories, boots, hairstyles, and facial hair in Pro Clubs and you can change complete costumes, neon attire, and face paint in VOLTA FOOTBALL.
The World's game is at its peak now and to experience the best, you can buy the cheapest FIFA 23 PS5 on GamesCard.Net.
Languages
Audio: English, French (France),  Spanish,
Subtitles:  English, French (France),  Spanish
This Game is Not a CD or Disc.
We deliver the original game to you via E-mail with a PS4-PS5 account that you can download and play for a lifetime.
FAQ.