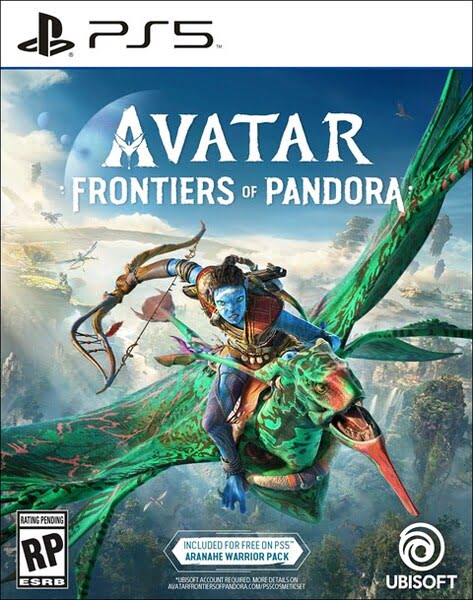 Avatar: Frontiers of Pandora Ps5
Avatar: Frontiers of Pandora Ps5 game is on sale on GamesCard.Net with the cheapest price guarantee. Buy now and start downloading within 60 minutes.
Description
Additional Info
Description
Enjoy the Aranahe Warrior Pack at no cost when you game on PlayStation®5.
Delve into the enthralling world of Avatar: Frontiers of Pandora Ps5, a first-person action-adventure game taking place in the unexplored Western Frontier of Pandora. You, a Na'vi, were seized and conditioned by the aggressive human corporation, the RDA. After fifteen years of serving their ends, you are finally free, but you find yourself an outsider in the place of your birth. Rekindle the connection with your forgotten heritage, understand your true Na'vi identity, and unite with other clans in defending Pandora against the RDA.
Avatar: Frontiers of Pandora Ps5 Features
DISCOVER A UNIVERSE OF MAJESTY AND PERIL
Embark on a journey through the breathtakingly beautiful, yet perilous open-world regions of the Western Frontier, an unseen continent of Pandora. Keep your wits about you, as lowering your guard could lead to fatal outcomes.
EMBRACE THE NA'VI WITHIN
Utilize your remarkable strength and nimbleness, personalize your character, create new equipment, and enhance abilities and weaponry to match your gaming style.
RULE THE HEAVENS
Form a bond with your personal banshee that assists you in aerial battles and serves as your transport across the expansive Western Frontier.
MASTER DIVERSE COMBAT TECHNIQUES
Guard yourself against Pandora's threats using precise Na'vi weapons such as the bow and spear-thrower, or utilize your human training to wield more devastating firearms like the assault rifle or shotgun.
EXPERIENCE THE ULTIMATE NEXT-GEN IMMERSION
Avatar: Frontiers of Pandora is designed to fully exploit the capabilities of the PS5™, offering an unprecedented level of detail, rendering, density, and immersive audio.
EMBARK ON A SHARED JOURNEY IN FULL CAMPAIGN CO-OP
Venture through the full narrative campaign alone or join forces with a friend online in two-player co-op.
Buy Avatar: Frontiers of Pandora Ps5 at cheapest price on GamesCard.
This Game is Not a CD or Disc.
We deliver the original game to you via E-mail with a PS4-PS5 account that you can download and play for a lifetime.
FAQ.